[ad_1]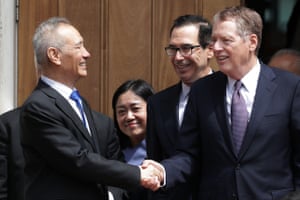 Good morning, and welcome to our rolling coverage of the world economy, the financial markets, the eurozone and business.
Trade tensions are weighing heavily on the financial markets this morning after relations between China and the US soured last week.
Having slapped new 25% tariffs on $200bn of Chinese goods on Friday, the US is now drawing up plans for similar tariffs on another $300bn of goods — or virtually all China's sales to America.
U.S. Trade Representative Robert Lighthizer declared:



"Earlier today, at the direction of the President, the United States increased the level of tariffs from 10 percent to 25 percent on approximately $200 billion worth of Chinese imports. The President also ordered us to begin the process of raising tariffs on essentially all remaining imports from China, which are valued at approximately $300 billion."
Investors are now braced nervously for Beijing to retaliate against America's new tariffs, after vice-premier Liu He returned from talks in Washington without a breakthrough.
Liu insists that America must lift its tariffs before a deal can be reached – something that hawkish members of the White House won't accept.
China has two other demands, Liu told reporters; The targets set by the U.S. for Chinese purchases should be in line with real demand, and the text of a deal should be "balanced" to ensure the "dignity" of both nations.
Protecting other people's dignity isn't exactly Donald Trump's core skill, of course. Over the weekend, he fired of a brisk volley of tweets on the issue, blaming China for backtracking on recent commitments.
He also repeated a promise to support US farmers – an admission that the trade war is hurting.
As China imports less than $200bn of US goods per year, it can't simply copy America's tariffs. But it's expected to take some retaliatory measures, says Elsa Lignos of Royal Bank of Canada:



Today, US Trade Representative will begin the process of "imposing tariffs on all remaining imports from China" per Robert Lighthizer's statement on Friday. Markets are also waiting for China's retaliation, as it has close to run out of US imports on which to impose tariffs.

China said the US had "severely disrupted" trade talks in a People's Daily Commentary, though as we go to press, no retaliatory measures have been announced yet.
Asia-Pacific markets have already been hit by the trade jitters, with fresh losses in Japan, China and South Korea today.
OCBC analyst Tommy Xie Dongming told clients that the breakdown in talks last week has surprised investors.



"The sudden, unexpected collapse ahead of the final step to ink a 150-page long trade deal caught market by surprise"

"Markets will tread cautiously, with the market focus still be on any developing headlines about China's possible retaliatory moves and next steps for trade talks from here until Trump and Xi meet at the G20 meeting in late June.
The futures market suggests the S&P 500, the Dow Jones Industrial Average and the Nasdaq will all fall by 1% when trading begins.
European stocks, though, are holding up better – with some analysts suggesting Europe looks a more attractive investment in the current climate (although a really severe trade war will hurt everyone).
With little else on the agenda today, trade worries will probably overshadow the day.


[ad_2]