[ad_1]

The Bachelorette
star Hannah Brown eliminated eight bachelors, including Scott Anderson — who allegedly had a girlfriend days before filming began — and narrowed down her pack of 30 men to only 22 bachelors during Monday night's premiere of Season 15 on ABC.
After a night of interesting introductions and a dramatic turn of events in which Hannah sent Scott, a 28-year-old software sales executive from Chicago, IL, packing in the middle of the cocktail party, Hannah handed out roses to 22 lucky guys at the first Rose Ceremony of the season.
'THE BACHELORETTE' SPOILERS: WHO ARE 'THE BACHELORETTE' STAR HANNAH BROWN'S FINAL 4 BACHELORS?
The bachelors whom Hannah ousted from the running for her heart at the Rose Ceremony were Brian Bowles, a 30-year-old math teacher from Louisville, KY; Chasen Coscia, a 27-year-old pilot from Ann Arbor, MI; Hunter Jones, a 24-year-old pro surfer from Westchester, CA; and Joe Barsano, a 30-year-old "The Box King" from Chicago, IL.
In addition, Matt Donald, a 26-year-old medical device salesman from Los Gatos, CA; Ryan Spirko, a 25-year-old roller boy from Philadelphia, PA; and Thomas Stanton, a 27-year-old international pro basketball player from Detroit, MI, were also cut from the Season 15 competition.
"This sucks. I mean, it hurts. I'm not going to lie. I was really excited. Unfortunately, it just didn't go the way I wanted it to. I think Hannah had a guy who was willing to put it all out there for her, and unfortunately, Hannah didn't see that side," Matt said following his ouster.
"She just saw a goofy guy who's just here to have fun, which is the exact opposite of who I am. This is a little bit of a heartbreak. It's going to take me some time to recover from this and regain some confidence. This sucks."
The Bachelorette broadcast began with Hannah saying she couldn't believe how she had been chosen to be the Bachelorette. The Tuscaloosa, AL, native wasn't even sure why she had been picked, but she was grateful and thrilled.
"I am just a normal girl looking for somebody to spend the rest of my life with," Hannah said.
RELATED LINK: 'THE BACHELORETTE' COUPLES NOW: WHOM DID 'THE BACHELORETTE' STARS AND THEIR BACHELOR PICKS ULTIMATELY END UP WITH?! (PHOTOS)
Hannah said she always loved to perform but never felt good enough and always struggled to be perfect. She was therefore ecstatic to win Miss Alabama, but the pageant wasn't her goal in life. Her real goal was apparently to find true love.
"Bless the man who wants to be with me forever because I'm a lot to handle," Hannah joked, adding however, that she brings something special to the table.
Hannah's friends Demi Burnett and Katie Morton from Colton Underwood's season of The Bachelor pumped Hannah up before Night 1 of filming began.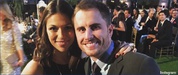 RELATED LINK: 'THE BACHELORETTE' COUPLES NOW
Fans were then introduced to some of the guys competing for Hannah's heart this season.
Tyler Cameron, a 26-year-old general contractor from Jupiter, FL, was "stoked" about Hannah being the Bachelorette, and since he loves to dance, he looked forward to dancing with her.
Peter Weber, a 27-year-old pilot from Westlake Village, CA, said he found Hannah's goofy side "so attractive," and Mike Johnson, a 31-year-old portfolio manager from San Antonio, TX, admitted he hadn't dated much at all and was excited to meet his bride-to-be.
Mike apparently grew up with all women in his household and so he learned how to listen and be patient.
Joe, a box salesman, then bragged about having a box for every occasion, but on a more serious note, he grew up in a close Italian family and noted how he loved Hannah's energy.
RELATED LINK: 'THE BACHELOR' FRANCHISE COUPLES NOW: WHO IS STILL TOGETHER?? (PHOTOS) 
Viewers then met Matt, who said people describe him as easygoing. He grew up in a deaf family and knows sign language.
Connor Jenkins, a 28-year-old sales manager from Newport Beach, CA, portrayed himself as a career man who is anchored by his diverse family. His dad is from Iowa, while his mother is from Hong Kong. His grandparents came over to the United States from China.
And Luke Parker, a 24-year-old import/export manager from Gainesville, GA, bragged about being a good-looking guy and said he definitely took advantage of that in his life. However, he claimed emptiness overcame him and God spoke to him one day in the shower, leading him down a different path to become a good husband to his future wife.
Luke insisted he's ready to get married and he thought Hannah is gorgeous.
Before Hannah met her guys via limo entrances, she told Chris Harrison she has a physical type but that never seemed to work out for her before. She was therefore ready to expand her tastes.
Hannah was then introduced to her 30 bachelors one by one, and some of the standout first impressions belonged to Connor Saeli, a 24-year-old investment analyst from Dallas, TX, who jumped over a fence for her; Devin Harris, a 27-year-old talent manager from Sherman Oaks, CA, who joked about being a virgin; and John Paul Jones, a 24-year-old from Lanham, MD, who asked Hannah to call him by his full name.
Joe later busted out of a giant cardboard box and told Hannah that she checked all of his boxes.
RELATED LINK: '90 DAY FIANCE' COUPLES NOW: WHO'S STILL TOGETHER? WHO HAS SPLIT?! (PHOTOS)
In addition, Joey Jones, a 33-year-old finance manager from Bethesda, MD, brought Hannah a baby carrier with a champagne bottle tucked underneath a blanket; Ryan pulled up on roller skates, yelling "Roll Tide;" Grant Eckel, a 30-year-old who is unemployed from San Clemente, CA, spoke to Hannah with a hotdog in his mouth; and Jonathan Saunders, a 27-year-old server from Los Angeles, CA, offered Hannah a pizza or a "piece" of his heart.
Luke growled at Hannah and told her that he's "king of the jungle" ready for his queen; Matt drove up on a tractor; Peter showed up dressed as a pilot and gave her wings; and Cameron "Cam" Ayala, a 30-year-old in software sales from Austin, TX — who had already been given a rose on The Bachelor: After the Final Rose in March — delivered a brand new freestyle rap for the Bachelorette.
Cam told the cameras he wasn't on the show for 15 minutes of fame, that he was in it for a forever love.
Before the cocktail party commenced, Hannah prayed to God to give her "the words" and help her sound smart.
Hannah announced to her group of guys she's not perfect and didn't expect them to be perfect either. Hannah said she was going to stumble over her words and make mistakes but she finally felt like she deserved love.
After she toasted to an "imperfect adventure," Luke swooped in and pulled Hannah away for a chat. Luke revealed he's a new uncle and ready to become a husband. Luke also said his sister-in-law had signed him up for the show and he was "really really into" Hannah.
RELATED LINK: 'MARRIED AT FIRST SIGHT' COUPLES NOW: WHO'S STILL TOGETHER? WHO BROKE UP? (PHOTOS)
Luke couldn't believe he was able to catch such strong feelings so quickly, and he admitted to being "blown away."
Connor J. felt confident in himself and set Hannah up her very own Bachelorette party, which included games and a tiara.
Hannah said the experience thus far was so much more than what she had imagined. She said it felt natural to get to know the guys and they made her feel "really special."
"I definitely believe I can fall in love here and be in love here," Hannah said in a confessional.
Cam got the first kiss of the season, and he said he felt instant physical chemistry.
Right when Harrison brought out the First Impression Rose, Hannah and Katie pulled up to the mansion in a surveillance truck ready to observe Hannah's guys and pick out the duds.
Jed Wyatt, a 25-year-old singer and songwriter from Nashville, TN, then sang Hannah a song on his guitar and she said it was "sexy." Hannah admitted to having "a total crush" on him, and she felt "so lucky" with her group of bachelors.
Demi said someone had reached out to her on social media and disclosed one of the guys had a girlfriend back home.
RELATED LINK: 'DANCING WITH THE STARS' PROS AND THEIR SIGNIFICANT OTHERS: WHO'S DATING OR MARRIED TO WHOM!? (PHOTOS)
Demi pointed out the guy was Scott and then Harrison asked to speak with Hannah. Harrison brought Hannah out to the girls, and Demi wanted her to know that Scott had a girlfriend.
"I've read messages between the girlfriend and her friends of her talking about how [she and Scott] saw each other on Monday before he came. He told her they were going to be together when this is all over and they're going to go on a trip together," Demi explained to Hannah.
Scott was shown telling the guys he could envision a future and home with Hannah, but then Hannah demanded to speak with him and accused him of having a girlfriend.
Hannah said she had heard Scott just spoke to his girlfriend "on Monday," which must have been only several days before filming commenced.
Scott promised he was on the show for Hannah even though he had dated a girl before appearing on the show.
"She messaged me on Monday, but that doesn't mean…" Scott began.
Hannah questioned Scott's sincerity, but he insisted he was being honest. Hannah thought Scott was keeping his girlfriend on the side as a backup option if things didn't work out between them — and she wasn't okay with that.
Hannah said Scott's presence was unfair to the woman at home as well as to herself. Scott then confessed to have dated a girl up until Monday, but he insisted they were "never serious boyfriend and girlfriend" and the woman wasn't someone he envisioned being with long-term and could marry.
"How dare you come here and think this is okay!" Hannah told Scott.
RELATED LINK: 'BIG BROTHER' SHOWMANCES NOW: WHO'S STILL TOGETHER? WHICH COUPLES HAVE SPLIT UP?? (PHOTOS)
Scott accused Hannah of being a hypocrite, saying she was just in love with Colton for a few months before starring on The Bachelorette.
Hannah was offended and argued their two situations definitely weren't the same. After a brief fight, Hannah sent Scott packing and accused him of absolutely not being ready for an engagement.
Hannah put Scott in his place and sarcastically wished him luck in the future on his way out of the Bachelor mansion.
Hannah then announced to the group Scott had a girlfriend back home and she wanted anyone else in a similar situation to leave because it was "disheartening and disrespectful" to her.
Hannah left the room and cried. She needed a minute to compose herself, and the guys were furious Scott had killed the mood.
Although the guys agreed Hannah needed some time to herself, Luke saw it as an opportunity to encourage and support Hannah. He said it hurt him to see Hannah so upset and caught off-guard by a liar.
Luke assured Hannah that he was on the show for her, to win her heart. Hannah was frustrated Scott had "fed her some bullish-t," but she tried to focus on the positive and on the guys who seemed to be authentic and sweet.
Hannah was still hopeful the process could work for her.
RELATED LINK: 'SURVIVOR' COUPLES NOW: WHO'S STILL TOGETHER?! WHICH SHOWMANCES SPLIT UP? (PHOTOS) 
Connor S. earned a kiss as the night progressed, but Hannah ultimately gave the First Impression Rose to Luke.
Hannah told Luke she had feelings for him right away and looked forward to getting to know him better.
"Likewise," Luke replied.
"I really like you, and I wanted you to know that," Hannah said.
Luke accepted the rose "without a doubt" and said it meant the world to him and he was "living in an absolute dream."
Luke then snagged a kiss from the Bachelorette. He said his heart was exploding and there was something strong between them.
"After tonight, I can totally already see myself falling madly in love with her and spending the rest of my life with this girl," Luke told the cameras.
RELATED LINK: 'THE BACHELORETTE' SEASON 15: MEET ALL OF HANNAH'S BACHELORS! (PHOTO GALLERY)
At the end of the night, Hannah apologized to the men she didn't have a chance to talk to because of the Scott incident.
Garrett Powell, a 27-year-old golf pro from Birmingham, AL, didn't get time with Hannah and felt "shaky," as did Jonathan and Kevin Fortenberry, a 27-year-old behavioral health specialist from Manteno, IL.
The episode concluded with the first Rose Ceremony of Season 15.
Hannah handed out roses to men in the following order: Mike; Connor S.; Matthew; Connor J.; Jed; Dustin Kendrick, a 30-year-old real estate broker from Chicago, IL; Joey; Devin; Peter; Dylan Barbour, a 24-year-old tech entrepreneur from San Diego, CA; Matteo Valles, a 25-year-old management consultant from Atlanta, GA; Jonathan; Tyler C.; and Tyler Gwozdz, a 28-year-old psychology graduate student from Boca Raton, FL.
Hannah then gave a rose to Daron Blaylock, a 25-year-old IT consultant from Buckhead, GA; Luke Stone, a 29-year-old political consultant from Washington, DC; Garrett; Grant; Kevin; and John Paul Jones, who said he turned down a promotion to compete on The Bachelorette.
"Obviously there was a little bit of drama this evening, which took away some time from everybody," Chasen said following his ouster.
"I don't want to blame it entirely on that whole situation, but I am certainly bummed out I couldn't have done more. She's such a perfect girl inside and out. I just can't stress enough how happy I am for her."
RELATED LINK: 'THE BACHELOR' COUPLES NOW: WHO DID 'THE BACHELOR' STARS AND THEIR BACHELORETTE PICKS ACTUALLY END UP MARRYING? (PHOTOS)
Interested in more The Bachelor news? Join our The Bachelor Facebook Group!


[ad_2]