[ad_1]

The Bachelorette
spoilers reveal all the details viewers can't wait to find out about the highly-anticipated finale of Hannah Brown's 2019 season — including who Hannah picks as her winner and runner-up, and shocking post-finale spoilers about whether
The Bachelorette
star is still engaged or with the winner pick she ended up with!
[Bachelorette Spoilers Warning: Please stop reading if you don't want to learn Hannah Brown's Final 2 bachelors, her runner-up, and who Hannah picked as her winner at the 2019 season's Final Rose Ceremony until The Bachelorette finale airs on ABC. This article also contains spoilers revealing Hannah's current engagement status with her winner pick since filming ended].
The countdown is on for The Bachelorette's Season 15 finale.
The Bachelorette's 2019 season finale will air on ABC as a two-night event on Monday, July 29 and Tuesday, July 30, with both broadcasts airing from 8-10PM ET/PT.
RELATED LINK: 'THE BACHELORETTE' COUPLES NOW: WHOM DID 'THE BACHELORETTE' STARS AND THEIR BACHELOR WINNERS ULTIMATELY END UP MARRYING?! (PHOTOS)
ABC recently teased Hannah's journey to find love will reach "a stunning" and "history-making" The Bachelorette conclusion and put all rumors to rest.
Hannah hinted her journey to find her perfect match was a wild and dramatic one, as she wrote on Instagram in May after filming wrapped that she was "still recovering" from it all.
Did Hannah eliminate Peter, Tyler or Jed next?
Hannah ousted Luke Parker for good in Crete, Greece after she felt slut-shamed and judged by the religious bachelor in a conversation that took place before their overnight Fantasy Suite date.
Now that Luke is gone, only three bachelors remain: Jed Wyatt, a 25-year-old from Nashville, TN; Peter Weber, a 27-year-old from Westlake Village, CA; and Tyler Cameron, a 26-year-old from Jupiter, FL.
"For the first time in Bachelorette history, three men will move on to the finale," ABC has teased.
Hannah seems to be falling in love with all of her remaining suitors, but one must go in Greece.
During The Bachelorette: The Men Tell All special that aired on ABC this week, Hannah revealed to Chris Harrison she basically changed her mind about whom to send packing in a matter of a day.
That shows her decision was a difficult one, definitely the hardest yet.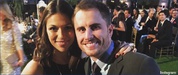 RELATED LINK: 'THE BACHELORETTE' COUPLES NOW
RELATED LINK: 'THE BACHELOR' FRANCHISE COUPLES NOW: WHO IS STILL TOGETHER? (PHOTOS) 
Hannah's Final 2 picks were Jed and Tyler, according to spoilers
According to Reality Steve spoiler blogger Steve Carbone, Peter got his heart broken at the Rose Ceremony in Greece and was ousted from the competition in third place.
The Rose Ceremony in which Peter was eliminated was filmed on May 5, according to Carbone. 
Carbone therefore reported Jed and Tyler faced off to win Hannah's heart towards the end of The Bachelorette finale. 
"[Tyler Cameron] and [Jed Wyatt] are your final 2," Carbone wrote in his blog.
ABC says Hannah will join Chris Harrison and a studio audience on both nights of the finale as home viewers watch the "gut-wrenching" and "unpredictable" ending of Hannah's time on the show.
Tyler, Peter and Jed will also be in studio to share the highs and lows of their time on The Bachelorette with Hannah.
And two of them will likely appear devastated since all three men have admitted they are "in love" with Hannah.
RELATED LINK: '90 DAY FIANCE' COUPLES NOW: WHO IS STILL TOGETHER? WHO HAS SPLIT? WHERE ARE THEY NOW? (PHOTOS)
Hannah then picked Tyler as her winner — woops, no, she picked Jed actually
Carbone announced in a spoiler blog posting on May 20 that Tyler won Hannah's heart and received her final rose.
"For the next 2 months you will [hear] all sorts of stories regarding the ending. It's the same song and dance every year. But here you go. She picked Tyler and that's where we're at," Carbone wrote.
But in a June 18 blog posting, Carbone suddenly changed his tune and reported his prior spoiler was wrong and Jed actually won Hannah's season!
According to Carbone, Hannah actually picked Jed and Hannah and Jed got engaged at the season's final Rose Ceremony.
"Basically every season I post the spoiler, at some point during the next few months someone will tell me the spoiler is wrong and they're hearing different. Sometimes they're right, sometimes my initial spoiler is right. This year has been no different. [Three] weeks ago I started hearing that Hannah was with Jed and not Tyler," Carbone wrote in his June 18 blog posting.
"Started looking into it, and [on June 4]… I got the most interesting tip about a possible Hannah and Jed engagement. So I've spent the better part of the last two weeks doing all I can to figure out it's legitimacy. And now I finally feel comfortable and can report: Hannah chose Jed at the end and they are engaged."
Carbone said he was unable to reveal the evidence that supported the fact Jed is the winner of Season 15.
Instead, all he could say is that the initial information he had received in May about Tyler winning was not as solid as he thought — and his latest tip was definitely "trustworthy."
"The info about Jed from 3 weeks ago is as solid as I can get and I just have to leave it at that," Carbone wrote.
"I wouldn't change the biggest spoiler of the season unless I had something pretty solid to go off of. I believe I do."
Carbone said The Bachelorette viewers will hear all different stories and endings for Hannah's season in the coming weeks, but he's certain Jed was Hannah's final guy.
"It's Jed, they're engaged, and that won't change from me the rest of the season," Carbone wrote in his blog. "There hasn't been anything more concrete on Hannah and Jed than what I received a few weeks ago."
RELATED LINK: 'THE BACHELOR' COUPLES NOW: WHO DID 'THE BACHELOR' STARS AND THEIR BACHELORETTE PICKS ACTUALLY END UP MARRYING? (PHOTOS) 
Carbone also said there were rumors surrounding Jed but he could not speak on any of them since sources refused to come forward and put their names on the allegations.
"Let's just say the whole situation sucks. There is one thing I saw personally but could never share because it would out a source," Carbone wrote in his June 18 blog posting.
"Lets just say it's right in line with exactly what Jed told Hannah on their 1-on-1 in RI about 'using this show as a platform.'"
However, only a few hours after Carbone's posting on June 18, a woman claiming to be Jed's girlfriend came forward to People alleging she was dating the country singer when he went on The Bachelorette, and Jed left for the show planning to resume his relationship with her afterwards.
(CLICK HERE to read the full details of her allegations.)
Haley Stevens, a 26-year-old fellow Nashville-based musician, claimed she had been Jed's girlfriend when he left to go on The Bachelorette.
Haley said she and Jed had been dating for about four months when Jed left to film The Bachelorette.
And according to Haley, the couple had even taken a romantic trip to the Bahamas, where they said "I love you" to each other for the first time, in February 2019 after Jed learned he would be on The Bachelorette's 2019 season.
RELATED LINK: 'THE AMAZING RACE' COUPLES NOW: WHO IS STILL TOGETHER? WHO HAS SPLIT? WHERE ARE THEY NOW? (PHOTOS)
"We spent the night together the night before he headed to L.A.," Haley recalled to People. "He told me [the show] was just an obstacle and we'd be stronger on the other side because of it."
Haley also claimed Jed called her after his plane landed in Los Angeles to begin filming and said Jed had repeatedly promised he was just going on The Bachelorette to get publicity for his music career.
"He said, 'I love you, and I'll call you when I get back,'" said Haley, who claimed she met Jed in October 2018.
Early this season, The Bachelorette showed Jed admitting to Hannah that he had only gone on The Bachelorette because he wanted to promote his music. (However, he insisted he was genuinely falling for her and intended to continue on the show just for her).
But according to Haley, Jed's intentions for dating Hannah were far worse than just seeking fame, because his initial plan was to allegedly use Hannah when his heart belonged to another woman the whole time.
Haley insisted Jed was hoping to woo Hannah and string her along far into The Bachelorette process, revealing, "He said he only wanted to be Top 5 [bachelors] … to be a major player so that it would be beneficial [to his career]."
Haley told People once Jed returned home to Nashville after taping, he never called her and he "ghosted" her, leaving her totally "baffled" and heartbroken.
Hannah ended her engagement after Haley came forward publicly
Haley continued to do additional interviews with other media outlets after her interview with People, and her disclosures apparently caused Hannah to have a change of heart about Jed — as, according to Carbone, Hannah called off her engagement to Jed a week after Haley came forward!
On June 27, the spoiler blogger took to Twitter to reveal Hannah was no longer engaged to Jed — but, in a strange twist of events, that they were still "together" as a couple.
"Since this is big news and some don't like being spoiled on Twitter even if there's a warning at the beginning of the tweet, I will post it in the thread. So if you don't want to be spoiled, do not continue to read this thread…" Carbone began.
"I can confirm that Hannah broke off her engagement to Jed earlier this week. They are still 'together,' but the engagement is off. This isn't a 'don't ever talk to me again' from what I'm being told, but it's also not all rainbows and daffodils either."
RELATED LINK: 'BIG BROTHER' SHOWMANCES NOW: WHO'S STILL TOGETHER? WHICH COUPLES HAVE SPLIT UP?? (PHOTOS)
Carbone predicted, however, Hannah and Jed's relationship wouldn't last much longer.
"Knowing that for the next month, so many people will be tweeting at Hannah to get rid of Jed, they're so happy she ended the engagement, go back to Tyler, etc. my guess is this relationship will be over sooner rather than later," Carbone tweeted.

"To end an engagement means Hannah has been bothered enough by what's come out. I don't see how Jed gets back in her good graces after this. Nor should he. This is something she will be, and should be, applauded for, & I just don't see them working thru this."
"This is a logical thing for Hannah to do. She had to. Just to re-evaluate everything going on bc she was essentially lied to and is now finding out stuff about her fiance I'm guessing she had no clue about. Will find out more & have it for you next week."
Hannah would also probably be viewed as a hypocrite had she not called off her engagement to Jed considering she had made a huge scene when Scott Anderson, one of her Night 1 bachelors, was accused of having a girlfriend back home during the initial cocktail party. 
Although Scott said he had dumped his girlfriend before filming began because he couldn't envision a future with her, Hannah was still furious about the timeline and questioned Scott's character and cut him immediately.
And in Jed's case, he allegedly never dumped Haley before going on The Bachelorette, but even planned to reunite with her afterwards!
RELATED LINK: 'MARRIED AT FIRST SIGHT' COUPLES NOW: WHO'S STILL TOGETHER? WHO BROKE UP? (PHOTOS)
Hannah then completely dumped Jed!
A few days after his June 27 tweets, Carbone suddenly reported that Hannah subsequently decided to dump Jed entirely!
"Hannah and Jed are done completely. She's broken off the relationship altogether. She's not trying or hoping for it to work out. They are done," Carbone wrote in a July 2 blog posting.
Carbone claimed Hannah and Jed's breakup was filmed in Los Angeles on-camera and will air during the season's The Bachelorette: After the Final Rose special, which he believes will now air over the course of two nights on ABC.
"I'm sure this is good news to many of you since as soon as Haley's story broke, many of you were excited to hear that she ended the engagement when I reported it, but also wanted her to not even try and give this a chance. And she did the right thing," Carbone continued.
"Lets be honest, I don't think she had much of a choice here. She would've been crucified for keeping him around after taking such a firm stance this season on women empowerment. So good on her. She did the right thing and I don't think a single one of us is upset it's over with Jed. It should be."
What happened before Hannah dropped Jed?
A lot reportedly transpired after Hannah and Jed got engaged in Greece.
According to Carbone, Jed told Hannah about his prior relationship with Haley shortly after proposing marriage to her, so Haley's recent public interviews were not the first time Hannah had heard about her.
RELATED LINK: 'SURVIVOR' COUPLES NOW: WHO'S STILL TOGETHER?! WHICH SHOWMANCES SPLIT UP? (PHOTOS)  
Carbone said he's pretty sure Jed told Hannah about Haley while they were still in Greece in the days following the filming of the Final Rose Ceremony, but exactly what Jed admitted about the relationship remains unclear.
"However, up until last week, Hannah and Jed were still engaged. So whatever Jed told her, like I said to Haley and told all of you, was clearly not the full story," Carbone alleged on July 2.
"I'm sure he just gave her some generic, 'Hey, there's this girl I was dating before the show… we broke up… she doesn't mean anything anymore… don't worry about it' BS that we've pretty much come to expect with him. In fact one specific detail I did hear is that Jed told Hannah they were broken up."
Carbone's claims that Jed told Hannah some limited information about Haley before they returned home from filming would also explain another allegation Haley made in a podcast interview she did with Carbone last week — that Hannah's brother suddenly began following Haley on Instagram on May 13, a few days after the final Rose Ceremony took place.
However, whatever limited info Jed told Hannah shortly they got engaged obviously wasn't enough for Hannah to call-off the engagement at that time.
"Then Haley's story comes out with the receipts and basically a week later she ends it? Yeah, I'd say Haley did the right thing by coming forward and providing receipts and Hannah did the right thing by ending it," Carbone wrote in his July 2 blog posting.
"And I'm sorry Jed, whatever you wanted to label your relationship with Haley, someone that you text 'I love you. Don't forget that' as you're about to board the plane heading to LA to film the show is something much more than someone you broke up with, or someone you may claim was a platonic relationship. Please."
During his podcast interview with Haley, Carbone had also told Haley that after she came forward, another woman had also contacted him and showed him numerous texts proving Jed had cheated on Haley and had sex with the woman shortly before Jed and Haley went to the Bahamas. 
Carbone said he believes Haley's story was enough for Hannah to end her relationship for good because Jed had "clearly lied about his relationship with Haley" and so trust between himself and Hannah had been broken.
RELATED LINK: 'THE BACHELOR' COUPLES NOW: WHO DID 'THE BACHELOR' STARS AND THEIR BACHELORETTE PICKS ACTUALLY END UP MARRYING? (PHOTOS) 
"Now this man was her fiance. How is she supposed to believe anything he tells her from that point forward? He could've begged and pleaded for another chance, and telling her he'd change, and apologized for not being 100 percent honest about his relationship with Haley, but as a woman, seeing what Haley put out there, there's NO WAY Hannah would've ever been able to forgive that type of betrayal," Carbone wrote.
"Seeing what he's texting a woman hours before arriving in LA? I don't care what happened during filming and how hard he claims to have fallen for her, how could she trust him enough after he basically started off their engagement with one big lie? She couldn't, and I'm assuming that's why the relationship is over. As it should be."
What has Hannah said about the 2019 season's ending?
Just days after filming ended, Hannah shed some light on her season's ending in an interview with Entertainment Tonight.
"I will tell you that I'm happy and, ultimately, this season and how it all turned out is not how I thought it would be. It just wasn't," Hannah said.
"It doesn't mean that it's not good. I think it happened exactly the way it was supposed to, and I feel really excited and blessed to have the opportunity that I've had and feel really good and want you all to see what that is. I can't really tell you much more."
During a June appearance on Nick Viall's "The Viall Files" podcast, Hannah also said she was slow and deliberate with her elimination decisions.
"Every relationship that I will end, when I end it, it's closed. So I will have times when I need to figure out my feelings and know them completely to be able to shut the door and not look back. And you'll see me process that," she told the former The Bachelor star.
Hannah continued, "I want to explore every single relationship until the end so I don't have to question, 'Was that because this or that? No, it was because I don't want to be with you. Great person — but I don't want to be with you."
Hannah told Nick she didn't want to be left with any doubts or concerns she chose the wrong person in the end.
"When I make decisions, I'm confident about those," Hannah noted.
What has ABC said about the 2019 season's finale?
In an interview with Variety, ABC reality chief Robert Mills revealed Hannah ended her season in love with multiple men and struggling to make a decision.
"This could be a situation where one of the guys gets out of the limo to head out to get his heart broken, and all of a sudden, she says, 'No, no, no, I'm sorry, he's the one,'" he said.
"You could see her changing her mind at the last minute. She really is that in love with these last few contestants, and she's torn over it."
RELATED LINK: 'THE BACHELORETTE' COUPLES NOW: WHOM DID 'THE BACHELORETTE' STARS AND THEIR BACHELOR WINNERS ULTIMATELY END UP MARRYING?! (PHOTOS)
"She definitely falls in love with numerous people. She's somebody who is very passionate and she has a massive heart. She's open to everyone and everything. With Hannah, she really was considering everything," the ABC executive added earlier during the interview. 
"I think she dated a certain type of guy before this, and I think she realized that this is a once-in-a-lifetime opportunity and she really explored multiple connections with many guys."
"She is someone who believes that there is room in your heart to love more than one person. So yes, she absolutely does fall in love with multiple men."
Interested in more The Bachelor news? Join our The Bachelor Facebook Group!


[ad_2]