[ad_1]

Bachelor in Paradise
featured Caelynn Miller-Keyes having a meltdown about her past with Blake Horstmann, Hannah Godwin getting stuck in a love triangle, and Annaliese Puccini confronting Clay Harbor about him supposedly appearing on the show for the wrong reasons during Tuesday night's Season 6 episode on ABC.
The Bachelor in Paradise episode began with Onyeka Ehie venting about how she couldn't believe Blake had slept with Kristina Schulman and Caelynn one day apart during a Stagecoach festival. Onyeka initially thought Blake was "charismatic, attractive" and the "it guy of Paradise," but her perception of him had totally changed.
RELATED LINK: 'BACHELOR IN PARADISE' SPOILERS: WHO GOT ENGAGED? WHAT SEASON 6 COUPLES ARE STILL TOGETHER AND DATING?
After hearing from Caelynn, Onyeka viewed Blake as "disrespectful," "disgusting" and a "f-ck boy."
Before Blake went on his date with Kristina, he told Tayshia Adams that he was just going on the date to have fun and it didn't take away from their previous date and what they had experienced together. Tayshia was glad Blake spoke to her first and solidified their connection.
Caelynn hated how she was hiding this big secret but everyone seemed to love and adorable Blake. She was sick of keeping a secret while Blake appeared to be "the king of Paradise."
Caelynn didn't understand why Kristina wasn't mad at Blake for what he had done to her, and Sydney Lotuaco told Caelynn that Blake wasn't the Bachelor and had no right to date all of the women on the beach.
Caelynn then told Sydney that Blake had referred to their hookup at the festival as "a mistake."
For their date, Blake and Kristina went ATVing. Blake said they had dated for a few months but something was missing — even if it was just bad timing — and so their romance didn't work out. But Blake appreciated how Kristina liked to try new things.
Blake wasn't sure why Kristina had picked him for her date, but she explained Blake was worthy of her attention and what she has to offer. Kristina told Blake what had happened at Stagecoach was "a slap in the face" to her.
Kristina felt disrespected by how Blake had handled the situation, and she expected more from him. Blake told Kristina that he "took things too far" and ended up "hooking up" with Caelynn.
But Blake alleged he and Caelynn woke up the morning after their fling and determined something felt wrong and they should just remain as friends going forward. Kristina admitted Blake had really hurt her, and so he apologized.
RELATED LINK: 'THE BACHELOR' COUPLES NOW: WHO DID 'THE BACHELOR' STARS AND THEIR BACHELORETTE PICKS ACTUALLY END UP MARRYING? (PHOTOS)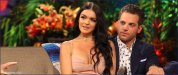 RELATED LINK: 'THE BACHELOR' FRANCHISE COUPLES NOW
"I made my bed and I'm going to sleep in it," Blake told Kristina.
"Did you change the sheets?" she replied with a laugh. "Wow."
Blake, however, told the cameras he was just friends with Kristina at the time of Stagecoach and wasn't in a relationship with her. Blake didn't feel the need to apologize for acting like a single guy.
Blake was "angry" Kristina had confronted him like this and noted, "This is not how I saw Paradise going."
Blake then asked Kristina to be honest with him and reveal whether she had romantic feelings for him. Kristina didn't really answer the question and just said she was afraid he would treat her like that again or do it to another best friend.
But Blake insisted they weren't together and he never cheated on her. The pair argued and Kristina yelled at Blake for putting his mistakes on her and "humiliating her." Blake thought that was ridiculous and felt ambushed.
Blake accused Kristina of acting immature and making him feel like he's a really bad person. Blake didn't think the situation was fair, and so he told Kristina he didn't want to talk about it anymore.
"He genuinely believes he did the right thing. He doesn't see the bigger picture," Kristina vented to the cameras. "Own up to your actions and just be done with it and move on… Swallow your pride… and be a man Blake!"
Meanwhile, Caelynn cried to Onyeka about her history with Blake, and Onyeka said Blake hiding their past was "very degrading" to her. Caelynn said Blake tried to make her look crazy and she just wanted him to own up to his behavior and apologize.
"I am nothing to this guy. This has been going on for too long and he has made me feel horrible," Caelynn said.
RELATED LINK: 'MARRIED AT FIRST SIGHT' COUPLES NOW: WHO IS STILL TOGETHER? WHO BROKE UP? WHERE ARE THEY NOW? (PHOTOS)
Blake's date with Kristina was "a total nightmare," according to the bachelor, and he assumed she had set out to just ruin his time in Paradise.
But things just got worse for Blake when he returned to the beach and asked to speak with Caelynn. Caelynn reminded Blake he had allegedly called her "a mistake" and treated her like "a dirty little secret" in Paradise, but Blake insisted they had agreed to be friends over the phone.
Caelynn argued Blake was the one who decided that, but Blake appeared completely shocked. As Caelynn voiced her struggle to Blake, she broke down into tears and was yelling so others on the beach could hear her.
Blake said, "I am so sorry. I did not know you felt this way… I'm so sorry, I didn't know."
Caelynn said they had something and moved past it but she didn't expect to just ignore each other on the beach. Blake said he didn't remember calling Caelynn "a mistake," but he apologized for it anyway because Caelynn was hysterical.
After Caelynn stormed off crying, Blake began crying too. He told the cameras Caelynn was "insane" and he couldn't believe what had just transpired.
"I think Blake is a major player and he's a smooth talker… He gained trust with amazing women and it makes me sad they got played by him," Onyeka said in a confessional, before Demi Burnett called him "a loser."
RELATED LINK: 'THE BACHELOR' FRANCHISE COUPLES NOW: WHO IS STILL TOGETHER? (PHOTOS)
Blake told the cameras it looked like he had sex with Caelynn and bolted but that was absolutely not his intent. He admitted to Wills Reid, however, he did tell Caelynn their night together was a mistake.
Blake said he looked like "the worst human in the world," and then Kristina warned Tayshia of what the gossip on the beach was all about. Tayshia said Blake had just lost her and there was no chance of them ever working out.
Blake felt confused and didn't know what to do. He said there was no way to remedy the situation and he felt "awful."
Blake vented he had to get out of Paradise and felt so lost. Paradise had become his own personal nightmare, although he had expected to leave Mexico with a partner.
After three days of Paradise, Hannah and Dylan Barbour were spending a lot of time together, and Demi was hitting it off with Derek Peth.
But Wills was also into Hannah and asked to chat with her. Wills thought Hannah could be the type of girl he could fall in love with and she was "dope," and then they shared a romantic kiss.
Hannah called Wills "smooth," but then Dylan interrupted their conversation. Wills gushed about how Hannah was amazing and she "didn't hold back" from their kiss.
Dylan told Hannah that he only had eyes for her and he wasn't interested in getting to know any of the other women on the beach, but Hannah was afraid Dylan was going to close himself off to the experience because she told the cameras dating around is what Paradise is all about.
RELATED LINK: '90 DAY FIANCE' COUPLES NOW: WHO IS STILL TOGETHER? WHO HAS SPLIT? WHERE ARE THEY NOW? (PHOTOS)
Hannah decided to be honest with Dylan and revealed Wills had just kissed her. Dylan asked her whether she was into him, and she replied, "I don't know."
Dylan understood the point of being in Paradise was meeting people, but his stomach dropped when Hannah told him that. Dylan couldn't imagine their chemistry being replicated with another guy, but he definitely planned to give her a rose anyway.
Nicole Lopez-Alvar was then shown saying Clay was hot and he's definitely a "manly-man," which she's into. Clay said it was hard to "get back out there" after his breakup with Angela Amezcua but he was open to having the opportunity to talk to other people and potentially make a connection.
"At this point in my life, I'm ready to find the person I'm meant to be with," Clay said.
Bibiana Julian was crushing on Clay hard, so Wells Adams advised her to be proactive and explore the relationship. Bibiana therefore pulled Clay aside, and he thought she was very physically attractive as well as a good person.
The pair connected, and Bibiana said Clay is the type of man she'd want by her side. She hoped Clay would be willing to give her a rose. But Nicole went after Clay as well and revealed her last relationship was in late 2016.
Clay admitted to Nicole that he didn't say, "I love you," in his last relationship, which lasted eight months.
Clay then received a Date Card for what would be the first one-on-one date in his Bachelor career.
RELATED LINK: 'BIG BROTHER' SHOWMANCES NOW: WHO'S STILL TOGETHER? WHICH COUPLES HAVE SPLIT UP?? (PHOTOS)
Clay asked Nicole out, and Bibiana was shocked and disappointed because she thought it was going to be her. Bibiana struggled to be vulnerable and confessed she was "really scared" and didn't want to go home.
Annaliese wasn't happy Clay was on Paradise because she said Clay had been stringing Angela along and giving her "hope." Annaliese claimed they met up in Chicago two weeks prior and had looked at houses when they were together.
Clay also allegedly said he wanted to marry Angela but needed to find himself first.
"Jumping into Paradise is not where you find yourself!… I don't think he's here for the right reasons. I don't think he's in it for a relationship," said Annaliese, who admitted she was tired of men not following through on their promises.
Annaliese then confronted Clay and told him that he was crushing Angela by being on the show. Clay said he and Angela broke up three months ago and they were talking about houses and babies "earlier on."
Angela alleged Clay and Angela had discussed baby names the day before they broke up, but Clay told her that she was very misinformed and should focus on herself and her own relationships. Annaliese told Clay he wasn't on the show for the right reasons, like maybe he was looking to be picked up by a football team.
Clay wasn't going to let Annaliese affect his date with Nicole, but he insisted he was truly ready to meet someone new and move on from his romance with Angela.
RELATED LINK: 'SURVIVOR' COUPLES NOW: WHO'S STILL TOGETHER?! WHICH SHOWMANCES SPLIT UP? (PHOTOS)  
For their date, the pair went to a carnival with donkeys, games, lights and more. The couple danced to the music of a local band, and Clay said he thought Nicole was so much fun and gorgeous.
Meanwhile, Demi advised Annaliese to meet a guy and find what's going to make her happy. Demi told her not to worry about other people and their business, but Annaliese said she felt the need to defend a friend.
"It's like grandma's off her meds. Nicole is one of the sweetest people I've ever met, and Annaliese chooses to be selfish and gets something off of her chest that really has absolutely nothing to do with her," Demi vented in a confessional.
"Annaliese just needs to stay in her lane because there might not be a worse judge of character when it comes to men than Annaliese."
Clay talked to Nicole about how he found it "hard" at times to be away from Angela but he was totally over the relationship and believed they just weren't a perfect match.
The couple then kissed and watched fireworks together, and Clay said they had "a special connection" and it had been a long time since he was so excited about someone. Clay planned to give Nicole his rose, and Nicole was on Cloud 9.
Nicole said Clay made her feel like she's "the sexiest woman alive."
The next day, the cocktail party preceding the Rose Ceremony commenced, and it became "game time" for the women because the men would be handing out the roses and three ladies were going to be going home.
RELATED LINK: 'THE AMAZING RACE' COUPLES NOW: WHO IS STILL TOGETHER? WHO HAS SPLIT? WHERE ARE THEY NOW? (PHOTOS)
Demi said Blake's rose was up for grabs and he was trying to do a lot of damage control. Meanwhile, Hannah had spent time with both Dylan and Wills, and Demi predicted Adrianne "Jane" Aver would be going home.
Demi was trying to pursue Derek seriously because they had a lot of fun together and she could picture him being a great, solid man in a relationship.
Blake tried to fix things with Tayshia, but she admitted Caelynn had made him look really bad and he needed to fix things. Blake said he felt "awful" and couldn't say sorry enough. He claimed he never intended to make her feel like a dirty little secret.
Cam Ayala's rose was up for grabs as well, so Caelynn felt the need to explore her options.
Cam told Caelynn he was smitten and "infatuated" with her. He had apparently been excited to meet Caelynn for months and the pair shared a kiss. Caelynn said the Cam she had a conversation with was not the Cam who had competed on Hannah Brown's season.
Onyeka was also bonding with John Paul Jones and kissed on the beach during the cocktail party. However, Jane was also fighting for his attention and gave John Paul some spicy tacos to eat, which resulted in him throwing up on the beach.
Meanwhile, Annaliese was genuinely interested in Chris Bukowski, whom she called "a man." He was the only man whom she wanted a rose from, and they were apparently hitting it off.
Bibiana, however, felt rejected because none of the men were interested in her. She had expressed interest in Clay but he was clearly wrapped up in Nicole, and she didn't feel like she was enough.
While Annaliese left her conversation with Chris to comfort Bibiana, Kristina stole Chris aside for a chat. Chris thought Annaliese was the sweetest girl ever but Kristina was "a breath of fresh air."
RELATED LINK: 'LOVE AFTER LOCKUP' COUPLES NOW: WHO IS STILL TOGETHER? WHO HAS SPLIT? WHERE ARE THEY NOW? (PHOTOS)
Kristina told Chris that she wanted to get to know him further, and he agreed. Chris hoped to make the right choice because he had made some poor decisions in the past.
Afterward, Hannah sat down with Wills and told him her heart was "tugging" her in a different direction. Hannah said love is something that can't be forced and so she was going to follow her gut and accept Dylan's rose that night.
Will felt hurt and disappointed, but Hannah suggested he look for someone great and attempt to build a genuine connection with someone else. So after Wills stopped crying, he got back out there and resumed his search for the perfect girl.
Dylan felt "so lucky" to have Hannah in his arms, and he felt totally committed to her. He assumed they were the strongest couple in Paradise, but Blake was getting ready to pursue Hannah.
"I've literally done everything wrong up to this point, but out of all of this, I got clarity. I came to Paradise to really get to know Hannah and really pursue Hannah, so I'm going to prove to her how I feel about her," Blake told the cameras.
"I'm actually really excited… Starting now, I'm going to do everything right, and I feel there is something really special between me and Hannah."
Blake therefore planned a little date for Hannah on the beach with drinks and charcuterie boards, and when he pulled her away, Dylan appeared shocked and worried.
Hannah admitted to Blake she came to Paradise expecting to get to know him but he had allowed her to make other connections by taking Tayshia out on a date and then being the center of a lot of drama.
"I'm not waiting around," Hannah told Blake.
Blake owned up to making mistakes but told Hannah that she was the reason why he was there. He asked her to put down her walls, and Hannah said she was open and hadn't completely closed him off.
Hannah said she was in trouble with him, and Blake noted she deserved so much. He felt like he was "on top of the world" while kissing Hannah, but she hid her face from the cameras after and appeared giddy.
Blake noted in a confessional he was going to sleep well that night knowing there was hope for his relationship with Hannah.
Hannah revealed to Dylan she had kissed Blake, and he was pretty upset because Dylan was "all in" with her and kept getting hurt and disappointed by her actions.
Wells Adams then told Hannah to follow her heart but Dylan was the "most smitten kitten" he had ever seen on the beach.
RELATED LINK: 'THE BACHELORETTE' COUPLES NOW: WHOM DID 'THE BACHELORETTE' STARS AND THEIR BACHELOR WINNERS ULTIMATELY END UP MARRYING?! (PHOTOS)
Interested in more The Bachelor news? Join our The Bachelor Facebook Group!


[ad_2]