[ad_1]

Bachelor in Paradise
spoilers reveal which couples get engaged at the end of Season 6 and which couple continued to date in the real world after the finale filmed.
[Bachelor in Paradise Spoilers Warning: This article reveals major spoilers and details about Season 6 of Bachelor in Paradise and its couples — so stop reading now if you want to wait until the season airs to find out which bachelors and bachelorettes end up together].
Bachelor in Paradise's sixth season premiered on August 5 with sexy singles from The Bachelor and The Bachelorette franchise traveling to Mexico for a shot at finding love.
RELATED LINK: 'THE BACHELOR' FRANCHISE COUPLES NOW: WHO IS STILL TOGETHER?? (PHOTOS)
Following the first Rose Ceremony of the season, the following ladies still remain: Caelynn Miller-Keyes, Demi Burnett, Hannah Godwin, Katie Morton, Kristina Schulman, Nicole Lopez-Alvar, Onyeka Ehie, Sydney Lotuaco, and Tayshia Adams.
Fans unfortunately said goodbye to Annaliese Puccini, Bibiana Julian and Adrianne "Jane" Aver.
Going into the next episode, the men who are still around are Blake Horstmann, Cam Ayala, Clay Harbor, Chris Bukowski, Christian Estrada, Dean Unglert, Derek Peth, Dylan Barbour, John Paul Jones, Jordan Kimball, Kevin Fortenberry, Mike Johnson, and Wills Reid.
Before the ladies will hand out roses, the next broadcast on Monday, August 19 will pick up with Jordan and Christian's blowout brawl on the beach.
As viewers already saw, Jordan, in attempt to defend his friend Clay, untied Christian's pinata for Nicole from where it was hanging "basically to throw it in the ocean like last season's teddy bear," according to Reality Steve spoiler blogger Steve Carbone, only for Christian to grab his arm and hold him back.
Jordan then fought back, and after a short scuffle, Jordan picked Christian up and slammed him to the ground. 
"Security has to jump in and separate the two, and after a while, Chris Harrison says they both have to leave the show. You saw a clip of how this goes down on the promo that ran," Carbone wrote in his spoilers last month.
RELATED LINK: 'THE BACHELOR' COUPLES NOW: WHO DID 'THE BACHELOR' STARS AND THEIR BACHELORETTE PICKS ACTUALLY END UP MARRYING? (PHOTOS)  
When the sand settles, it will become time for the women to hand out roses.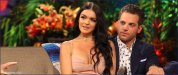 RELATED LINK: 'THE BACHELOR' FRANCHISE COUPLES NOW
But "one disheartened woman decides to make an early exit before the rose ceremony, meaning one less rose for the men to fight over," ABC teases in a press release for the next two episodes.
Carbone says Onyeka opted out of giving someone a rose because she had failed to find a solid romantic connection in Paradise. She therefore chose to quit and leave the show.
Once the Rose Ceremony commences, Demi gives her rose to Derek, Caelynn hands her rose to Dean, Hannah finally chooses Dylan over Blake, and Nicole will give her rose to Clay following all of the drama between Jordan and Christian, according to Carbone.
Katie will reportedly give her rose to Chris, Sydney will offer her rose to Mike, Tayshia will continue getting to know John Paul, and Kristina will decide to keep Blake around by giving him a rose.
The three men who were therefore eliminated from the show at this point were allegedly Cam Ayala, Kevin Fortenberry, and Wills Reid. (As previously reported, Jordan and Christian were kicked off the show for fighting).
Carbone reports four women will enter Paradise in the next two episodes and mix things up: Tahzjuan Hawkins and Caitlin Clemmens from Colton Underwood's The Bachelor season as well as Haley Ferguson and Jen Saviano from Ben Higgins' season.
"Although a new woman on the beach has a hard time finding a man who isn't committed to someone, she discovers a passionate guy who is interested in getting to know her," ABC teases.
RELATED LINK: '90 DAY FIANCE' COUPLES NOW: WHO IS STILL TOGETHER? WHO HAS SPLIT? WHERE ARE THEY NOW? (PHOTOS)
And one woman will apparently uncover a secret about one of the men that will be embarrassing.
In the Monday, August 19 episode, Hannah Brown will surprise everyone in Mexico and sit down with her pal Demi for a conversation.
"Hannah B. arrives and is eager to hear good news from her close friend Demi, but she finds her confused and at odds with herself about her future in Paradise. Demi asks Chris Harrison to help resolve her dilemma," ABC teases.
Dates this week will reportedly feature Tahzjuan asking out John Paul, Haley going on a date with John Paul, Jennifer asking Chris out, and Caitlin going on a date with Blake.
Specifically during the Tuesday, August 20 broadcast, Demi apparently explains to Chris Harrison how she's conflicted between staying in Paradise and exploring a relationship with Derek, a man she cares deeply for, or leaving to go home and resume a romance with a mystery woman whom she can't stop thinking about.
Carbone says Demi's female flame, Kristian Haggerty — who is not associated with Bachelor Nation or any Bachelor show — will be welcomed into Paradise so Demi can explore both relationships and make her mind up.
ABC revealed, "Demi is surprised when she reconnects with the woman she has kept in her heart while in Paradise — and nothing will ever be the same. But there are still hurt feelings to be sorted out and romantic moments to share."
RELATED LINK: 'THE BACHELOR' COUPLES NOW: WHO DID 'THE BACHELOR' STARS AND THEIR BACHELORETTE PICKS ACTUALLY END UP MARRYING? (PHOTOS)  
Demi will have to decide whether it's the beginning of something special or the end of the road for her romance with Kristian.
ABC also says that when one of the newcomers pursues Chris B. — Jennifer, according to Carbone — Katie might regret sharing her strong feelings with the bachelor.
And at one point, Carbone says Tahzjuan and Haley will get into a fight because Tahzjuan allegedly calls her a "bizarre" name.
"Tahzjuan, by all accounts, loses it this episode and that's why she didn't get a rose," Carbone wrote in his spoilers.
The week in Paradise will end with the men — except for Demi — handing out roses at the third Rose Ceremony of the season.
According to Carbone, Demi will choose to give her rose to Kristian instead of Derek, John Paul will hand his rose to Haley, Derek will give a rose to Tayshia, and Dylan will offer his rose to Hannah G.
Clay will reportedly give his rose to Nicole, Chris will give a rose to Katie, Dean will offer his rose to Caelynn, Mike will continue to pursue things with Sydney, and then Blake will give his rose to Kristina.
But drama erupts when Dean allegedly decides to leave Paradise quite suddenly.
"Dean leaves after giving Caelynn his rose. Says he doesn't see anything progressing post-show, so she gets to stay, and he bolts," Carbone revealed.
RELATED LINK: 'THE BACHELORETTE' COUPLES NOW: WHOM DID 'THE BACHELORETTE' STARS AND THEIR BACHELOR WINNERS ULTIMATELY END UP MARRYING?! (PHOTOS)
The rose decisions ultimately eliminated Tahzjuan, Caitlin and Jennifer from the show.
So what happens to these couples as the season progresses? Who ends up falling in love?
What Bachelor in Paradise relationships turn into engagements?
Carbone recently reported three couples got engaged during the season finale of Bachelor in Paradise that will air later this summer.
According to Carbone, Dylan and Chris both got down on one knee and proposed marriage, and the other couple happened to be the franchise's first-ever, same-sex pairing!
Dylan reportedly proposed marriage to Hannah, Chris popped the question to Katie, and then Demi and Kristian got engaged.
Demi confirmed in late July she is romantically attracted to and interested in women on social media shortly after a Bachelor in Paradise preview aired on ABC and showed Demi straddling and kissing another woman in bed.
"Spoiler alert: I'm a queer queen," Demi tweeted along with #BachelorInParadise and emojis of a rainbow, a queen and two hearts.
RELATED LINK: 'MARRIED AT FIRST SIGHT' COUPLES NOW: WHO IS STILL TOGETHER? WHO BROKE UP? WHERE ARE THEY NOW? (PHOTOS)
Although Demi had been shown pursuing a relationship with Derek and growing strong feelings for him, Kristian was always in the back of Demi's mind. Demi has gushed about how Kristian is kind and warm-hearted, and the blonde beauty just couldn't seem to let her go.
Demi explained in a recent episode she is "fluid" and falls in love with a person, regardless of whether that person is male or female. 
Once Kristian arrives in Paradise, Demi will choose her over Derek. And according to Carbone, the pair will fall in love.
In a preview clip for Bachelor in Paradise this season, Demi said in a confessional, "I know that I love this girl. I'm just so happy that I found her, and I can definitely picture being with her for the rest of my life."
In addition, Demi's voice could be heard saying, "I smell an engagement, and it feels amazing," in the trailer.
Season 6 will therefore tie the record for most engagements in a Bachelor in Paradise season, as Season 3 of the series also ended with three engagements.
While Hannah and Dylan paired up right off the bat — despite Blake's advances and Hannah G.'s occasional makeout sessions with other men — Chris and Katie didn't get together until the cocktail party that preceded the second Rose Ceremony of the season.
During that Rose Ceremony, Katie decided to give her rose to Chris.
RELATED LINK: '90 DAY FIANCE: BEFORE THE 90 DAYS' COUPLES NOW: WHO IS STILL TOGETHER? WHO HAS SPLIT?! WHERE ARE THEY NOW? (PHOTOS)
Katie and Chris' connection appeared to deepen quickly, as Chris has said he has no interest in getting to know another woman in Paradise and Katie has gushed about how her man "rocks" and she couldn't believe no one managed to snatch him up earlier.
Hannah G. and Dylan details 
Of all three couples, Carbone predicts Hannah G. and Dylan will last and actually get married considering their relationship in Mexico was sincere and long lasting.
Hannah, a content creator and model from Birmingham, AL, competed on Colton's edition of The Bachelor earlier this year before making her way into Paradise.
Hannah made it to overnight Fantasy Suite dates but was dumped before she could enjoy the night with Colton because he had his heart set on Cassie Randolph.
Dylan just appeared on Hannah Brown's season of The Bachelorette.
The tech entrepreneur from California didn't make it as far as Hannah G. did on her The Bachelor season, because Dylan was sent packing by Hannah in Riga, Latvia.
Katie and Chris details 
Chris initially found fame way back on Emily Maynard's season of The Bachelorette, but he got rejected when Emily determined her Final 3 bachelors.
Chris later returned for Season 3 of Bachelor Pad and then crashed Andi Dorfman's season of The Bachelorette. But Andi chose not to let Chris join her cast of guys since he had developed a player reputation from his time on Bachelor Pad.
Chris then appeared on Seasons 1 and 2 of Bachelor in Paradise, but he only lasted several weeks on each season.
RELATED LINK: 'BIG BROTHER' SHOWMANCES NOW: WHO'S STILL TOGETHER? WHICH COUPLES HAVE SPLIT UP?? (PHOTOS)
Chris famously announced his "retirement" from The Bachelor franchise in 2015, but he apparently had a change of heart and decided to do the show again.
Katie, a medical sales representative from Sherman Oaks, CA, appeared on Season 23 of The Bachelor starring Colton and finished in eighth place.
Demi and Kristian spoilers
Demi was also a bachelorette from Colton's The Bachelor edition. She finished in ninth place and made waves in the house with her confident and forward personality as well as her aggressive approach to dating the then-virgin bachelor.
Carbone said he first heard Demi was bisexual all the way back in January when Colton's season was airing.
Carbone claimed to have received pictures of Demi kissing another woman, but he had no intention of outing Demi at the time.
Demi reportedly met Kristian through fellow The Bachelor contestant Catherine Agro, as Catherine and Kristian were roommates. Demi and Kristian allegedly began dating in February.
As Carbone was prepping his spoilers for the new Bachelor in Paradise season, he heard Demi had a girlfriend whom she was planning to introduce to the world on the show. Carbone later received confirmation Demi's girlfriend left for filming.
Carbone says Demi and Kristian were given a Date Card once they reunited in Paradise but everything was a set up.
"All this of Kristian coming on the show was pre-planned," Carbone alleged in a June 18 blog posting.
"Demi talked about it with producers, she knew Kristian was gonna be brought in after filming had started, and she wanted to use the show as an outlet to come out as bisexual. They're not having Kristian battle over other men for Demi or anything like that. They are there and they are a couple."
RELATED LINK: '90 DAY FIANCE: HAPPILY EVER AFTER?' COUPLES NOW: WHO IS STILL TOGETHER? WHO HAS SPLIT? WHERE ARE THEY NOW? (PHOTOS)  
Carbone said at the time Bachelor in Paradise would be "The Demi Show" for a while and producers and Demi would both exploit the same-sex relationship given the franchise has never seen it before. 
"You can bet your ass ABC loves this and will scream it from the rooftops how ground breaking it is for their show to have a same sex couple on it," Carbone wrote last month.
"That's why they're allowing it and seemingly not caring about any sort of rules for the show."
But viewers already saw Demi warn Derek about this woman back home and her bisexual feelings, so he wasn't exactly blindsided.
"I don't think Derek physically expected Demi's girlfriend to show up during filming, but I don't think he was all that shocked by it either when it happened… I think the seed was planted so he wasn't completely caught off guard," Carbone wrote.
Carbone then tweeted on June 28 that Demi and Kristian had gotten engaged in Paradise.
Which other Bachelor in Paradise couple is still together and dating?
Dean and Caelynn reportedly continued their relationship outside of Paradise and are still dating. They have yet to get engaged, however.
"Dean and Caelynn are dating," a source told E! News in mid-July.
"They are now in Venice, Italy and plan to travel around Italy together before coming back to [Los Angeles]."
The report came after an eyewitness took a photo of what appeared to be Caelynn and Dean walking down the street together in Venice and sent it to Carbone, who then posted the photo on Twitter on July 13.
Prior to their trip to Venice, the source said Dean had traveled to Spain and Caelynn ended up meeting him there, resulting in four days spent together.
Although Caelynn and Dean never confirmed they were actually in Spain together on social media, they made it pretty obvious by posting photos of their experiences around the same time on their respective Instagram accounts.
"Clearly hating my time in Spain," Caelynn captioned a picture of herself smiling in Barcelona in early July.
And the following day, Dean posted a video of himself swimming in the Embalse de Yesa.
"Driving through Spain today and came across this crazy blue lake. the color reminded me of the lakes in Patagonia," Dean wrote alongside the image.
According to insiders, Caelynn and Dean "really hit it off" in Paradise, People reported.
"But then Dean got cold feet and left," an insider told People. "He got home and realized he really had feelings for Caelynn, so went back to Paradise for a second chance."
The insider added, "Things have been going much better between them since they left Mexico together."
People's report echoes what Carbone had written in his blog about Dean and Caelynn's time on Season 6 of Bachelor in Paradise together earlier this summer.
Caelynn and Dean spoilers
"At the 3rd rose ceremony, Dean gave his rose to Caelynn then left. Didn't see a relationship progressing past the show," Carbone tweeted on June 30.
"[Connor Saeli] came in and asked out Caelynn and things were going well until Dean returned, said he wanted to be w/ Caelynn, and Caelynn left w/ Dean."
Caelynn and Dean reportedly therefore left Bachelor in Paradise dating each other. Caelynn recently told E! News her experience on the show was "horrible" and "great" at the same time.
Caelynn competed on Colton's season of The Bachelor earlier this year. Although Caelynn and Colton seemed to establish a deep connection, he ended up choosing Caelynn's best friend on the show, Cassie Randolph.
Dean found fame when he appeared on Rachel Lindsay's season of The Bachelorette and made it all the way to a hometown date.
After an appearance on Bachelor in Paradise, Dean later fell for Lesley Murphy on The Bachelor Winter Games, which filmed in late 2017. Dean and Lesley, however, split around April 2018.
But as recently as seven months ago, Dean had insisted all Bachelor Nation relationships were fake and insisted he would not want to be in a relationship with another franchise alum ever again.
"None of these Bachelor relationships are real, not a single one of them," Dean told Access in January.
"Maybe you've got some marriages and some kids and those ones are real, but every one of them's fake and contrived and I'm not into that."
"Granted, there are some that are real, like those ones I guess, but boyfriend-girlfriend relationships, every single one of them is fake," Dean said.
"From a marketing side of things, if you're in a relationship, you get more good notoriety, whatever it is and it's just like, who cares? I'm not going to be in a relationship for the sake of, like, image or selling more things on Instagram, you know?" Dean ranted in his interview with Access.
"So if you wouldn't be in a relationship if all of that weren't there, you shouldn't be in a relationship to begin with. That's kind of the approach I take."
Dean elaborated, "And that's kind of why I never want to get in a Bachelor relationship again because, whether or not, there is an inkling or whisper of a possibility that the other person might be in it because they see the value in it monetarily or whatever, social status wise."
Fans will find out soon enough whether Dean and Caelynn's romance turns out to be the real deal.
RELATED LINK: 'THE BACHELORETTE' COUPLES NOW: WHOM DID 'THE BACHELORETTE' STARS AND THEIR BACHELOR WINNERS ULTIMATELY END UP MARRYING?! (PHOTOS)
Interested in more The Bachelor news? Join our The Bachelor Facebook Group!


[ad_2]