[ad_1]

Bachelor in Paradise
welcomed Tahzjuan Hawkins and Haley Ferguson into the mix, but then the guys ultimately sent Tahzjuan, Jennifer Saviano and Caitlin Clemmens packing during Monday night's Season 6 episode on ABC.
Caitlin was especially upset about her ouster after Blake Horstmann opted to give what appeared to be a friendship rose to Kristina Schulman instead of progressing the romance they had begun in Paradise.
RELATED LINK: 'BACHELOR IN PARADISE' SPOILERS: WHO GOT ENGAGED? WHAT SEASON 6 COUPLES ARE STILL TOGETHER AND DATING?
"Kristina definitely saw me as a threat. I don't know what she said to him, and I mean, whatever she said, I guess it sealed the deal," Caitlin said in her final words.
"I don't know. I just think she's malicious. It sucks being blindsided. Hopefully that won't happen to anybody else."
The Bachelor in Paradise broadcast began with Derek Peth waking up with a new attitude and happy outlook although it was hard to watch Demi Burnett and Kristian Haggerty together.
The couples in Paradise at this point were Dean Unglert and Caelynn Miller-Keyes, Nicole Lopez-Alvar and Clay Harbor, Mike Johnson and Sydney Lotuaco, and Dylan Barbour and Hannah Godwin.
Tayshia Adams then told Kristina she had interest in getting to know Derek because he had a nice body and was charming. Kristina could see Tayshia being with a man who's as "solid" as Derek.
Tayshia said Derek was established and successful and had his stuff together.
"I think because of the way things unfolded in the first week, it kind if split us apart, but he's a really great guy and maybe something could come out of it," Tayshia said in a confessional.
Tayshia was having fun with John Paul Jones — who thought he was becoming "an item" with Tayshia and could see her becoming his serious girlfriend — but she pulled him aside for a chat because she couldn't really envision a future with him.
Tayshia told John Paul to take advantage of other date options in Paradise because she wanted him to be happy, but that wasn't what he wanted to hear.
RELATED LINK: 'THE BACHELOR' COUPLES NOW: WHO DID 'THE BACHELOR' STARS AND THEIR BACHELORETTE PICKS ACTUALLY END UP MARRYING? (PHOTOS)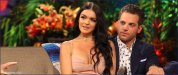 RELATED LINK: 'THE BACHELOR' FRANCHISE COUPLES NOW
John Paul admitted it would be difficult to watch Tayshia go on a date with another guy, but he looked forward to new romance possibilities as a result.
Tahzjuan from Colton Underwood's season of The Bachelor then arrived in Paradise. No one recognized her, but Tahzjuan was immediately laser-focused on John Paul and didn't care if she had to step on some toes in order to get him.
Tahzjuan said it took her four plane rides and lost luggage to get to Paradise, so she wasn't going to let anything stand in her way of potentially finding love.
John Paul had very strong feelings for Tayshia, but he wasn't sure how into him she was. John Paul therefore reluctantly accepted Tahzjuan's date invitation, saying he was doing it to please Tayshia.
John Paul thought Tahzjuan was a beautiful woman, so he was interested to find out how Tayshia would react to him dating other women.
John Paul and Tahzjuan shared many laughs on their date, including Tahzjuan making fun of him for actually eating the food on their date, which made him sick within seconds.
"I can honestly say I've never laughed this hard in my life," John Paul told the cameras.
The pair danced the night away to a local band and ended up swimming and kissing in a river. Tahzjuan found John Paul intriguing and hoped to get to know him better.
RELATED LINK: 'MARRIED AT FIRST SIGHT' COUPLES NOW: WHO IS STILL TOGETHER? WHO BROKE UP? WHERE ARE THEY NOW? (PHOTOS)
Meanwhile, Tayshia, Sydney and Caitlin discussed how Colton was the worst kisser ever with the guys in Paradise over a bonfire on the beach. Tayshia noted, however, Colton "got better towards the end of the season."
Tayshia said Derek had all of the pieces in place in his life, so she hoped they could form a connection.
The next day, Caelynn told the cameras how she was growing strong feelings for Dean and anticipated dating him after the show. She thought he was caring, considerate and thoughtful.
But Demi warned Caelynn that Dean was "a heartbreaker" and she shouldn't give him all of her time and attention. Demi and Bachelor in Paradise's bartender Wells Adams said Dean had a way of making women feel special yet no woman had been able to "wrangle" Dean yet.
Caelynn wanted a serious relationship, but Demi advised her to take a step back and look at the situation subjectively. Demi suggested Dean was not going to change and she needed to be careful.
Wells and Demi suggested Caelynn should "lay down the law" and ask questions to make sure Dean wasn't just going to wander out of her life once Paradise ended. Caelynn realized they had a good point.
"I didn't come here to literally date another Blake," Caelynn said in a confessional.
Caelynn decided she needed to challenge Dean. She wanted to hear him say, "Yes, I want a future with you," as well as receive reassurance that her heart was safe with him.
When Caelynn talked to Dean about his reputation and how she was a bit worried, Dean assured Caelynn that she was the only woman with whom he wanted to spend his time in Paradise.
"But I suck at dating, and it's challenging for me to see myself getting to a point where I'm like, 'Alright, I'm ready to settle down now.' I'm going to take off in my van for nine months and be as free as possible," Dean explained to Caelynn.
"I know that kind of sucks to hear. It only makes sense for you to protect your heart only because I don't want a normal life and to go to dinner parties on Saturday nights where we talk about our feelings and emotions."
RELATED LINK: 'THE BACHELOR' FRANCHISE COUPLES NOW: WHO IS STILL TOGETHER? (PHOTOS)
Caelynn could tell Dean's mind was made up and their romance would probably stop after Paradise.
"It's basically, like, a 'convince me otherwise' situation," Dean told Caelynn. "And I think you would just be miserable as my girlfriend."
Caelynn felt stupid for giving Dean the benefit of the doubt because she could tell he wanted to run away as soon as possible and just have fun. Caelynn didn't know whether she should continue spending time with him as a result, knowing her heart would be crushed.
Caelynn didn't understand why Dean came to Paradise if he didn't want to leave in a serious relationship.
Just as Tahzjuan thought it was going to be "smooth sailing" in Paradise with John Paul because they had connected, Haley suddenly arrived in Paradise. Given she's interested in men who are playful and goofy, she decided to ask John Paul out on a date, and he gladly accepted.
"What the hell is happening? You can't have Haley without [her twin Emily Ferguson], or Emily without Haley. That's like having French fries with no ketchup, and you can't just, like, eat ketchup," Tahzjuan vented in a confessional.
"John Paul Jones isn't build for ketchup. He's built for, like, Rocky Road ice cream with a cherry on top and hot fudge. That's me."
Tahzjuan said she and John Paul were seagulls flying in the air together and Haley came in and sh-t on everything.
Tahzjuan became extremely emotional and complained about melting under the hot sun while John Paul and Haley enjoyed a horseback riding date on the beach.
RELATED LINK: '90 DAY FIANCE' COUPLES NOW: WHO IS STILL TOGETHER? WHO HAS SPLIT? WHERE ARE THEY NOW? (PHOTOS)
On their date, John Paul was looking to see if Haley and himself were compatible, but he acknowledged she wasn't thrown off by his quirkiness and he loved that about her.
The pair clearly had a mutual attraction, and lathering each other in sunscreen turned into a hot makeout session for John Paul and Haley.
While hanging out at the beach, Tahzjuan could tell everyone was paired up and she was alone. She had a very difficult time in the heat and was sick of seeing lovey-dovey couples. She also felt left out of friendships that had already developed on the show.
Tahzjuan questioned whether she even wanted to show up to the Rose Ceremony. She cried, screamed and complained about needing a break.
Once John Paul and Haley returned from their date, Tahzjuan hoped to win him back, but John Paul was exhausted and simply didn't seem very interested. He had a great time on both dates, and that's all he had to say.
"I'm so glad you're here Haley! Just kidding, I was like, 'Can I spit in her wine?' It was just a passing thought," Tahzjuan told Haley as the two girls sandwiched John Paul at the bar.
"I would never… And, like, you're a pigeon and we're seagulls. I'm not going to cry."
Haley was pissed Tahzjuan compared her to a bird, telling the cameras, "B-tch, I'm not a pigeon."
Tayshia then pulled Derek aside for a chat as drama exploded between John Paul, Tahzjuan and Haley that she wanted nothing to do with.
Derek got emotional during his conversation with Tayshia over how his romance with Demi had ended. Tayshia asked Derek what he wanted and what would make him happy, and he told her that he was "crazily attracted" to her.
But Derek was questioning whether he should even remain in Paradise because he was struggling with how to take the next step and move on from his failed relationship with Demi.
RELATED LINK: 'BIG BROTHER' SHOWMANCES NOW: WHO'S STILL TOGETHER? WHICH COUPLES HAVE SPLIT UP?? (PHOTOS)
Tayshia told Derek that he deserved happiness, just like Demi did, and she asked him to just open his heart and soak in all the experiences he could in Mexico. She had faith he could move on and maybe explore a relationship with her.
It then became time for the cocktail party preceding the Rose Ceremony. The men had the power and so the ladies were stressed, especially because five roses seemed to be up for grabs.
Caitlin planned to get her man and so she planned a little date for Blake on the beach. After they shared a little kiss and Blake called her "cute," Blake told Caitlin that she'd be receiving his rose.
Kristina, however, interrupted and planted seeds in Blake's mind that he should give her a friendship rose. As fans probably recall, Kristina saved Blake from going home at the previous Rose Ceremony.
"If you're not sure about Caitlin, you shouldn't lead her on. Caitlin coming in and you taking her on a date and you giving her a rose, that validates you two," Kristina told Blake.
"That lets her know you are in. Tap into your feelings and know this is someone you want to have a life after Paradise with because this is what you're giving your rose to."
Blake considered Kristina one of his closest friends, and then she said, "I don't want to have to say, 'I told you so.'"
Kristina felt confident Blake was not into Caitlin as much as she was into him or else "he would've gone after her at Stagecoach."
Caitlin didn't appreciate how Kristina was "inserting herself" in the middle of her relationship with Blake, and she called Kristina "a b-tch."
Blake then sat down with Caitlin and told her that he didn't want to give her false hope. He feared Caitlin would develop strong feelings for him and he just couldn't get there with her.
Blake admitted he wasn't 100 percent sure about what he wanted to do at the next Rose Ceremony and he was going back and forth in his head, especially since Kristina deserved to meet someone new in Paradise.
RELATED LINK: 'SURVIVOR' COUPLES NOW: WHO'S STILL TOGETHER?! WHICH SHOWMANCES SPLIT UP? (PHOTOS)  
Caitlin told Blake that she liked him and thought he was awesome, but he confessed he had a tough decision to make. Caitlin got upset and wished Blake had said something like this sooner.
Caitlin was also bothered by the fact Blake had promised her a rose and then seemed to change his mind just 20 minutes later.
Afterward, Kristian admitted she was having a tough time in Paradise.
Kristian saw Demi joking around with John Paul that she wanted to make out with him and didn't like it. But Demi insisted nothing romantic would ever happen with John Paul and Kristian had no reason to get jealous or be worried.
As for John Paul, he had to make his mind up about which woman he liked more. John Paul thought Haley was "the full package," but he also liked how Tahzjuan was beautiful and never beat around the bush.
But John Paul ultimately determined Tayshia was the girl whom he wanted. Tayshia thought he was amazing and enjoyed his company, but she was still going after Derek.
Derek decided he was ready to move forward and find happiness, and so he wanted to break the barrier of friendship to see where things could take them. The couple then shared a kiss, and Tayshia acknowledged he's a better kisser than Colton.
John Paul watched Tayshia and Derek from a distance and got upset.
Dean was then shown giving Caelynn a birthday cake, and it meant a lot to her that he was challenging himself and being so sweet and kind to her.
RELATED LINK: 'LOVE AFTER LOCKUP' COUPLES NOW: WHO IS STILL TOGETHER? WHO HAS SPLIT? WHERE ARE THEY NOW? (PHOTOS)
But Katie Morton's relationship with Chris Bukowski was in limbo after she had given the bachelor her blessing to go on dates with other women. After Chris reluctantly explored a romance with Jennifer, they had a great time and he found himself torn between the two ladies.
Chris really cared for Katie, but she had planted seeds of doubt in his mind and so he decided to take a chance on Jennifer. However, Katie decided to tell Chris how she really felt in order to hopefully give him clarity.
Katie therefore sat down with Chris and said she was 100 percent invested in him and wanted to go for it. Chris said he appreciated every second he had with Katie but he wasn't confident in where they were at.
Katie insisted she wanted Chris and really cared about him — both of which were things he had been waiting to hear.
"I want this. Do you?" Katie asked.
"I don't know if I can give you that answer right now. I just need some more time to think," Chris said.
It then became time for the season's third Rose Ceremony, and Chris Harrison asked Demi to hand out the first rose.
Demi gave her rose to Kristian, who admitted this experience was very new to her and she was still adjusting to dating in Paradise and on-camera.
Dylan then offered his rose to Hannah, Clay gave his rose to Nicole, Mike asked Sydney to accept his rose, and Dean handed his rose to Caelynn.
Blake then gave his rose to Kristina, which really upset Caitlin, who had called Kristina "manipulative."
Derek handed his rose to Tayshia, but John Paul didn't think he was the type of man whom Tayshia wanted. However, Tayshia accepted Derek's rose, and it really threw him off.
John Paul seemed to make a last-minute decision in giving his rose to Haley, and then Chris B. decided to give his rose to Katie.
The rose decisions eliminated Tahzjuan, Caitlin and Jennifer.
Chris B. thanked Katie for opening up to him, and she was so thrilled to be moving forward with him. Katie felt so relieved and validated, saying an elephant had been lifted off her chest.
Dean then told the cameras he never expected to have formed such a special connection with someone in Paradise and his relationship with Caelynn was going well.
"But she wants to be in a relationship, and I don't know if I have that to offer her in the moment," Dean said in a confessional.
Dean therefore pulled Caelynn aside to talk and the episode ended with a cliffhanger.
RELATED LINK: 'THE BACHELORETTE' COUPLES NOW: WHOM DID 'THE BACHELORETTE' STARS AND THEIR BACHELOR WINNERS ULTIMATELY END UP MARRYING?! (PHOTOS)
Interested in more The Bachelor news? Join our The Bachelor Facebook Group!


[ad_2]