[ad_1]

90 Day Fiance: The Other Way's
finale featured Evelin Villegas accepting Corey Rathgeber's marriage proposal, Jenny Slatten leaving India devastated, and Tiffany Franco breaking Ronald Smith's heart by leaving South Africa with her son Daniel during Monday night's episode on TLC.
90 Day Fiance: The Other Way's debut season followed American citizens moving across the globe and living in foreign countries for the sake of love.
RELATED LINK: '90 DAY FIANCE' COUPLES NOW: WHO IS STILL TOGETHER? WHO HAS SPLIT? WHERE ARE THEY KNOW? (PHOTOS)
Similar to the original 90 Day Fiance series that documents Americans bringing their foreign partners to the United States, 90 Day Fiance: The Other Way's Americans also had to get married to their overseas partner in order to remain in their new countries. The Americans faced major culture shocks and challenges.
The finale broadcast of the show starred Jenny, a 60-year-old from Palm Springs, CA, and Sumit, a 30-year-old from New Delhi, India; Tiffany, a 27-year-old from Frederick, MD, and Ronald, a 29-year-old from South Africa; Corey, a 31-year-old from Mill A, WA, and Evelin, a 26-year-old from Engabao, Ecuador; and Deavan Clegg, a 22-year-old from Salt Lake City, UT, and Jihoon Lee, a 29-year-old from South Korea.
Two couples, however, did not make an appearance in the episode: Paul Staehle and Karine Martins as well as Laura Jallali, a 51-year-old from Eustis, FL, and Aladin Jallali, a 29-year-old from Doha, Qatar.
The Tell-All special for 90 Day Fiance: The Other Way will air on Sunday, October 13 on TLC.
Below is the latest on each 90 Day Fiance: The Other Way couple based on Monday night's final episode on TLC.
COREY and EVELIN
Corey had been in Ecuador for about a week after returning to Evelin's hometown following his father's unexpected passing.
Corey only had three weeks left on his visa to propose marriage and get married to Evelin or else he'd have to leave her country and move back to the United States.
Corey therefore approached Evelin's father to ask his permission and blessing to pop the question. Corey helped Evelin's father with some chores outdoors before saying, "I want to talk with you for the — with Evelin — I love you very much and everyone."
RELATED LINK: 'MARRIED AT FIRST SIGHT' COUPLES NOW: WHO IS STILL TOGETHER? WHO BROKE UP? WHERE ARE THEY NOW? (PHOTOS)
Corey got so nervous he forgot his little speech, so he had to use a translation ask.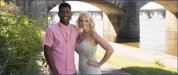 RELATED LINK: '90 DAY FIANCE' COUPLES NOW
"I love Evelin more than anything and I want to ask permission to marry you with Evelin," Corey asked. "So, you're okay?"
Evelin's father replied, "Me, no problem. Evelin have problem."
Evelin's father was pleased because Corey's gesture showed his love for Evelin was real, but he told the cameras Evelin has never wanted to get married. Evelin's father therefore advised Corey to talk to Evelin more in order to convince her to say "yes."
Corey was so thrilled to have the support of Evelin's father, but he suddenly realized "how challenging" getting engaged to Evelin was going to be.
Corey then planned a surprise for Evelin and blindfolded her in the car on the way to their destination. He knew he wanted to spend the rest of his life with her and had noticed a big change in Evelin, so he was hoping for the best.
On their four-year anniversary, Corey took Evelin on a hot air balloon ride, where Evelin could see a giant sign in Spanish that read, "Will you marry me?"
Evelin was afraid to ride in this balloon because she said "things are sketchy" in Ecuador and if the balloon popped or fell, that would be "it." Corey was surprised to see that Evelin was terrified.
The ride, however, ended up being "so cool" and Evelin loved it. She couldn't see the sign, so once the pair landed, Corey walked her over to the sign so she could see it.
"I love you so much. Unfortunately things didn't go as planned and I was hoping you could read this sign that I made, but let's just go and have a look at it," Corey told Evelin, before asking her to close her eyes.
RELATED LINK: '90 DAY FIANCE: BEFORE THE 90 DAYS' COUPLES NOW: WHO IS STILL TOGETHER? WHO HAS SPLIT? WHERE ARE THEY NOW? (PHOTOS)
After Evelin read the sign, Corey was down on one knee and he asked, "Will you marry me, baby?"
"Are you seriously doing this?" Evelin replied.
"Do you want to marry me?" Corey asked again, as he was holding out an engagement ring.
"I mean, that's a big question," Evelin said.
"I had to at least try because this is truly what I want to do, and you knew that," Corey explained. "I understand if it's too soon and you don't want to go through with it, but I needed to give it my best [shot] and at least try."
Evelin told Corey that she wanted to be with him, but she hesitated. Corey reminded her that if she wasn't ready it would be okay, but then she replied, "I do. Yeah, I do want to. Yeah, I do want to!"
Evelin said, "Yes!"
The couple hugged and kissed and then Corey put a ring on Evelin's finger. She was ready to spend the rest of her life with Corey, but she acknowledged she wasn't ready to get married right away even though she accepted a marriage proposal.
"People might think I'm crazy to live in a third-world country, but I will live anywhere as long as I can be with Evelin," Corey told the cameras.
RELATED LINK: '90 DAY FIANCE: THE OTHER WAY' STAR EVELIN: COREY IS A FAME-HUNGRY, ATTENTION SEEKER WHO NOW SEES REALITY TV AS HIS CAREER
Evelin said she felt lucky to have Corey in her life, and she didn't even feel worthy of all these things. Evelin admitted she could be "hard" and "mean" but she did love Corey deeply.
After the proposal, Corey arranged a table on the beach with red roses, where they enjoyed wine and a romantic meal cooked by a private chef.
Corey felt on top of the world because his hopes and dreams were all coming to fruition, and Evelin also noted she was excited about their future together. The dinner ended with a fireworks display — including heart-shaped fireworks!
JENNY and SUMIT
It had been over a week since Jenny discovered Sumit had a wife. She was packing her belonging to leave India.
"I am still in shock. I feel sad to leave India," Jenny said in confessional.
"I thought I was going to be living here and this was going to be my new home, and now I have to leave. I'm devastated, heartbroken, but it's just hard for me to be mad at him because I love him."
Sumit hugged Jenny goodbye, and Sumit felt completely helpless and powerless. He said it hurt a lot knowing Jenny was going back to America, and he only had one hour to spend with her due to his brother's demands.
Jenny had no idea a whole other family was involved in their lives, and Sumit said he felt very bad. Sumit apparently wished he had been honest with Jenny from the beginning.
Sumit felt responsible for Jenny coming to India because of his lies. He knew he must face a lot, defend himself and stand up for himself against his family and his wife.
Sumit insisted he wanted to get out of his marriage because he loved Jenny and wanted to be with her.
The couple cried in each other's arms as they hugged goodbye, and Jenny said she still loved Sumit and didn't blame him for anything. She said being with Sumit in India was "the best six months of [her] life."
RELATED LINK: 'LOVE AFTER LOCKUP' COUPLES NOW: WHO IS STILL TOGETHER? WHO HAS SPLIT? WHERE ARE THEY NOW? (PHOTOS)
Jenny was glad they tried to make things work.
"If you want to be with me and you really want us to be together, please take care of things… Please don't just let me go or it will never be the same," Jenny begged Sumit in tears.
"Please try to do something for us and fix everything and make everything okay. Broken hearts kill people — do you know that? My heart is going to be ripped out of my chest."
Sumit buried his face in his hands and then walked away, leaving Jenny to wipe her own tears and gather her composure. Sumit cried about how the best days of his life were over because he had made a home for Jenny himself and they were so happy together.
Sumit blamed himself for everything and told the cameras, "It's my fault. I did wrong."
A car then took Jenny to the airport and she told Sumit that she'd love him forever. Jenny told the cameras she didn't regret coming to India, nor did she make the biggest mistake of her life.
"He made me happy and I wasn't happy before. He's a good guy. Just, please, everybody know he's a good guy. It's not his fault… He's in Indian culture and he can't go against his parents," Jenny cried in a confessional.
"Everybody, just believe that we love each other, because it's true. I promise you — it's true, true, true. We're not lying to anybody. That's it. That's all. That's all I want to say."
Sumit acknowledged steps needed to be taken to get Jenny back into his life.
DEAVAN and JIHOON
Deavan had been in South Korea for almost three weeks, and she and Jihoon were married. However, Jihoon's parents, Hong Ju and Jung, wanted the couple to partake in a traditional Korean wedding ceremony.
In addition, Deavan planned to eventually plan a big wedding her own family could attend.
Deavan and Jihoon were dressed in traditional Korean clothes and Jihoon's aunts were present for the big occasion. Jihoon thought Deavan looked "beautiful," admitting it's hard to pull off a hanbok outfit.
RELATED LINK: '90 DAY FIANCE: HAPPILY EVER AFTER?' COUPLES NOW: WHO IS STILL TOGETHER? WHO HAS SPLIT? WHERE ARE THEY NOW? (PHOTOS)
"She was born to wear a hanbok. That's how great she looked in it," Jihoon told the cameras.
Deavan, however, said this was not the wedding of her dreams and she did not feel like a bride. She couldn't speak Korean and communicate with Jihoon's loved ones, and she realized this was the life she had chosen and these people were her new family members.
Deavan couldn't help but ask herself what the heck she had gotten herself into.
Deavan thought Jihoon looked super cute all dressed up as well. Deavan embraced Korean culture and made Jihoon very happy.
Despite the wishes of Jihoon's parents, Deavan admitted to Jihoon she didn't want to welcome any more children with him, and Jihoon seemed okay with that because he noted Deavan had the power in their relationship.
Deavan told the cameras she was hot, sweaty, looked like a fool and didn't know what she was doing, but she went with the flow. She ultimately had fun with Jihoon's family and had a good time.
Jihoon told Deavan they'd enjoy their first night as official man and wife and make another baby, but Deavan laughed and replied, "No more babies."
"I'm good on babies. I really don't want another baby right now," Deavan noted.
RELATED LINK: '90 DAY FIANCE' STAR DEAVAN CONFIRMS SHE'S PREGNANT AGAIN AFTER PREGNANCY NEWS LEAKS
Deavan was happy she was married to the man she loved and that her son would have a father in his life. Deavan was also thrilled her daughter Drascilla would have a father-figure in her life.
Deavan's hopes for the future were that Jihoon would work hard, save money, rent an apartment for them and prove he's ready to take care of a family. Deavan said if Jihoon didn't step up to the plate, she'd "probably have to leave" him.
TIFFANY and RONALD
Tiffany had told Ronald about her decision to return to the United States a few days prior. Even thought she knew it was a longshot due to Ronald's criminal history, she planned to apply for a visa so he could eventually move to America.
Tiffany worried how Ronald would react to her departure, and she feared loneliness could be a trigger for a potential relapse. Tiffany acknowledged Daniel leaving South Africa would also probably break his heart.
Tiffany therefore asked Ronald to sit down with a counselor and talk things out. Ronald admitted his family was going to be torn apart and he'd face trials and tribulations, but Ronald was confident he'd never gamble again.
"He's going to feel so alone. He's going to be in a very vulnerable place, and that's when he needs the most support," Tiffany said in a confessional.
Ronald's biggest problem was going to be stress over the unknown.
RELATED LINK: '90 DAY FIANCE' COUPLES NOW: WHO IS STILL TOGETHER? WHO HAS SPLIT? WHERE ARE THEY NOW? (PHOTOS) 
The counselor said Ronald was going to have to be incredibly strong and this was going to be the biggest challenge he'd ever face. Ronald was "so scared" for her husband to "fall" at such an "important time."
Tiffany was told to maintain trust and take things one step at a time.
After three months in South Africa, Tiffany and Daniel were headed home, which Tiffany said was one of the most difficult decisions of her life, especially since she was pregnant.
Ronald was hoping to raise a family in South Africa, but that wasn't going to happen and he felt like he was going to "throw up" on the way to the airport.
"I don't want to go!" Daniel yelled after getting to the airport.
Daniel worried about Ronald being all alone, and he said he didn't want to leave his dad. Tiffany, however, promised her son this needed to be done in order for them all to be together one day.
Daniel broke down into tears and sobbed when he had to hug Daniel goodbye, but Donald hugged him tight and told him to be strong. Ronald promised that everything was going to be okay and he'd miss him.
"It's just temporary. Next thing you know it, you're going to see me again," Ronald said.
Tiffany's heart was broken. She knew Daniel wasn't happy in South Africa, but she also knew her son wasn't going to be happy being so far away from his new dad.
"I love you. I love you so much. Never forget that," Ronald told Daniel, adding that his time with Tiffany and Ronald was the best time of his life.
Ronald hugged Tiffany goodbye and she also cried. Ronald broke down into tears after watching his family leave him.
Tiffany was upset, knowing she'd have to face her pregnancy without her husband by her side. She and Ronald were committing to a really long time apart, and Tiffany wasn't sure whether Ronald would ever be able to come to the United States.
"The future is still very uncertain for me and Ronald. But one thing is for sure, our relationship is strong and will stand against anything that comes our way," Tiffany said in a confessional.
RELATED LINK: '90 DAY FIANCE' COUPLES NOW: WHO IS STILL TOGETHER? WHO HAS SPLIT? WHERE ARE THEY NOW? (PHOTOS) 
Want more 90 Day Fiance news? Click here to visit our 90 Day Fiance webpage!


[ad_2]