[ad_1]

90 Day Fiance
couple Paul Staehle and Karine Martins were shown trying to get their marriage into a healthy place after Karine threatened her husband with divorce on
90 Day Fiance: The Other Way —
so did the couple end up calling it after filming concluded, or are they still together?
[90 Day Fiance Spoilers Warning: Please stop reading if you don't want to find out whether Paul and Karine are still together and married. This article reveals if whether the 90 Day Fiance couples has split, and where Karine and Paul are currently living.]
RELATED LINK: '90 DAY FIANCE' COUPLES NOW: WHO IS STILL TOGETHER? WHO HAS SPLIT? WHERE ARE THEY KNOW? (PHOTOS)
Paul and Karine met online and fell in love in Brazil despite being unable to communicate well with each other.
Paul and Karine wed in 2017, but their wedding didn't air until the following year on Season 2 of 90 Day Fiance: Before the 90 Days on TLC.
After starring on 90 Day Fiance: Before the 90 Days' prior season, they allowed cameras to film them for the debut edition of 90 Day Fiance: The Other Way, which wrapped on TLC last week.
Part 1 of 90 Day Fiance: The Other Way's Tell-All special is set to air on Monday, October 14, with Part 2 airing the following week.
Paul and Karine's relationship has been filled with ups and downs, including two devastating miscarriages — one of which was documented on 90 Day Fiance: Before the 90 Days.
However, Paul and Karine happily announced in October 2018 they were expecting a baby. That same month, Paul revealed Karine was pregnant with a baby boy.
90 Day Fiance: The Other Way therefore debuted with, Paul, 35 at the time, working odd jobs on a farm to save up money for his then-pregnant wife and unborn child.
Paul wanted Karine to give birth in the United States under the care of American doctors, but since he didn't make $26,000 in annual income and couldn't convince his mother — or seemingly anyone else — to sponsor Karine, Paul realized he had to move to Brazil in order to make his marriage work and be able to raise his baby.
RELATED LINK: 'MARRIED AT FIRST SIGHT' COUPLES NOW: WHO IS STILL TOGETHER? WHO BROKE UP? WHERE ARE THEY NOW? (PHOTOS)
Paul was frustrated he couldn't support his wife and baby from the United States, but he was prepared to make a "huge sacrifice" by moving to Brazil permanently.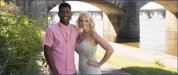 RELATED LINK: '90 DAY FIANCE' COUPLES NOW
Karine, who was 23 at the start of The Other Way, was seven months pregnant at the time Paul arrived in Brazil. She had spent three months alone prior to his arrival and had been taking English classes in order to improve their communication.
Karine, however, didn't feel Paul was making much of an effort to learn Portuguese, work and earn money. She feared Paul wouldn't be able to provide for his family, knowing babies are incredibly expensive to raise.
Karine said she truly loved Paul but needed him to "stop the drama," become a good father, and step up to the plate financially.
But Paul said he was doing everything he could for his wife and was tired of Karine complaining. 
Unfortunately for the couple, Paul later discovered his application for permanent residency in Brazil had been denied due to his criminal record.
Paul's residency was initially denied because he had been charged with "terroristic threatening of the third degree" in connection to a misdemeanor charge on his record from when he had been accused of threatening to slash someone's tires thirteen years ago in America.
Paul claimed he had caught a former girlfriend inside their place with another guy. In addition to threatening to slash the man's tires, Paul admitted he had made "some angry comments."
The attorney had to explain to agents of the federal police that what Paul had been charged with back in the United States was not an act of terrorism but rather a normal threatening charge.
Paul and his attorney therefore appealed the decision, and it turned out to be a waiting game for Paul and Karine.
RELATED LINK: '90 DAY FIANCE: BEFORE THE 90 DAYS' COUPLES NOW: WHO IS STILL TOGETHER? WHO HAS SPLIT? WHERE ARE THEY NOW? (PHOTOS)
"If Paul has to leave, he will take my heart with him. And not just mine, but my son's," Karine told the cameras.
After staying with Karine's mother for a while in Tonantins, Amazonas, Karine and Paul rented a cheap home for $200 a month.
Paul hoped to stay in a much more expensive place, but Karine told Paul he didn't have a job and might get deported so they needed to be careful with their money. She was annoyed how frivolous Paul was with money and how he always needed to do things his way.
Karine told Paul to go back to America, and then Paul accused her of wanting a divorce. Karine said Paul was all about "drama, drama, drama."
"He doesn't want to change but he needs to grow up now that he's going to be a dad," Karine told the cameras.
Karine's mother said Paul treated Karine badly, especially when he brought up the idea of a DNA test for the baby.
Paul insisted he no longer had suspicions about being the biological father of Karine's son, but when he borrowed Karine's phone for its translation app, a text message suddenly popped up in which Karine was talking to an American man in English.
Paul demanded to know who the guy was, but Karine just told Paul to "stop." She called the mystery man "some guy," but Paul wasn't okay with that. Karine later told the cameras the man in question was the son of a woman who helps her by sending money.
"My relationship with him is basically like a friend or like a brother. It's nothing romantic like Paul thinks," Karine explained.
RELATED LINK: 'BIG BROTHER' SHOWMANCES NOW: WHO'S STILL TOGETHER? WHICH COUPLES HAVE SPLIT UP?? (PHOTOS)  
Paul admitted they'd have trust issues as long as Karine continued to talk to other men and maybe a baby paternity test was necessary after all. Paul told Karine that he didn't appreciate what she was doing.
Three weeks into their new life together in Tonantins, the couple was living off the small amount of savings Paul had left prior to flying to Brazil, but they were running out fast.
Paul was looking for some under-the-table work, but no one seemed to speak English and Paul couldn't speak Portuguese well. Karine was worried and stressed out, but Paul was tired of his wife "poking" at him.
Paul said he gave up everything in the United States to live in Brazil with Karine and be there for her, but he felt nothing he ever did was "good enough" for his pregnant wife.
Paul told Karine the fact she was communicating with American men in English worried him and hurt his feelings, but Karine said Paul always accused her of cheating when they fought.
"I can't take it anymore, to tell you the truth," Karine said. "Are you afraid someone is going to treat me better than you?"
Paul flipped out and told Karine to file for divorce if she was so displeased with her marriage, and she cried saying she was tired of Paul scaring her and treating her poorly.
Karine didn't want her child to see Paul angry all the time and assume that kind of behavior is acceptable and normal, so she thought about getting a divorce. She wasn't sure Paul was capable of changing.
The next day, Karine had disappeared, and her father told Paul that Karine and her mother had left together on a boat and were heading back to Manaus, a large city in Brazil.
RELATED LINK: 'LOVE AFTER LOCKUP' COUPLES NOW: WHO IS STILL TOGETHER? WHO HAS SPLIT? WHERE ARE THEY NOW? (PHOTOS)
Paul was in shock and felt very hurt and sad because Karine had left him in a place where he didn't speak the language and had no family or friends to count on.
Paul was then shown taking a boat ride back to Manaus. He wanted to fix things with Karine, but she was pretty torn on how she wanted to proceed in her relationship with Paul.
"I left everything in Tonatins to come to Manaus with my mom because in Manaus there are lawyers that can help me with the divorce," Karine told the cameras.
"But I keep giving Paul chances because my son needs his father. I don't want him to be far from his father. So I'm willing to give him another chance."
When Paul finally met up with Karine following days of separation, he said he was at a loss for words.
Karine told Paul that he was acting like a bad person and so she didn't want to see him. Karine had no patience for Paul and couldn't believe he was angry with her for talking to another guy via text.
"You know I didn't do anything wrong," Karine said, adding that she and Paul had this talk over and over again.
Karine thought Paul was going to apologize for his behavior, but instead, he was still mad at her.
"How would you feel if I talk to other women?" Paul asked.
"This won't work," Karine said. "Shut up! I'm getting really angry… All that I see is that you want to humiliate me."
Karine felt Paul was never going to change, and she said she was tired of crying and having Paul blame her for things she was not guilty of. Karine called him a "jerk."
RELATED LINK: '90 DAY FIANCE' COUPLES NOW: WHO IS STILL TOGETHER? WHO HAS SPLIT? WHERE ARE THEY KNOW? (PHOTOS)
Karine burst into tears and left the conversation, but Paul chased after her and knew things were bad. Paul could tell Karine was not happy with him and that he had "f-cked everything up."
"I'm going to fix it," Paul noted. "I'm definitely concerned about losing everything I had. I don't know if it was real."
Karine wanted to be left alone, but then Paul insisted he was sorry and had made a mistake because he was upset. When Paul asked Karine if she loved him, she simply said, "No."
As Paul tried to hug her, Karine pushed him away and asked him to leave.
"I really want a divorce. I am tired of what Paul does to me," Karine said in a confessional. "He lives in the past and too many fights make a relationship fall apart. There's no more hope. I'm thinking of my son now."
Karine asked Paul to leave, and she wouldn't let him kiss her goodbye. He didn't know what to do and told the cameras it seemed like Karine hated him.
A few days later, Paul said his fight with Karine was worse than ever and he wasn't sure there was much hope of them getting back together.
Paul therefore considered flying home to the United States and returning to his old life, but little did Karine know, his appeal regarding obtaining permanent residency in Brazil had been approved, and so he was finally able to apply for a work visa and then hopefully get a job.
Paul's mother advised him to work out his issues with Karine so he could be there for his child. Paul's mother didn't want Paul to miss out on being a father and watching his baby grow up.
Paul realized he had made a mistake as a result and planned to step it up, but then he learned Karine had gone into labor. 
RELATED LINK: '90 DAY FIANCE: HAPPILY EVER AFTER?' COUPLES NOW: WHO IS STILL TOGETHER? WHO HAS SPLIT? WHERE ARE THEY NOW? (PHOTOS)
Paul made his way over to the hospital, but after seeing Karine, she kicked him out.
Paul therefore stormed out the front doors of the hospital angrily. Karine apparently didn't want him around for the baby's birth, and Paul told the cameras, "It is what it is. I'm really hurt."
"She told me to leave and get her some stuff. She wants her mom in there and doesn't want me here," Paul added.
Paul later returned to the hospital to drop some items off for Karine and attempted to smooth things over with Karine around 7PM.
Karine was so mad at Paul, but he just couldn't leave her there, knowing how much pain she was in.
Karine had been given no medications for the pain, and so Paul proactively stayed and rubbed Karine's back. And this time, she didn't force him to leave the hospital.
At 5AM the next day, Karine was still in labor. All of the doctors had apparently left and only one nurse was on staff. Paul was upset because there was no pain medicine available, and he said the hospital was "far inferior" to what is offered in the United States.
Even though Paul had "a rocky relationship" with Karine's mother, he was glad she was there for her daughter as well.
Karine's mom said it was "nerve-wracking" because Karine appeared to be giving up. When the baby was coming out, no doctors were around.
At the last minute, a doctor finally showed up and took Karine into the delivery room.
"I can't do it!" Karine yelled.
RELATED LINK: 'DANCING WITH THE STARS' PROS AND THEIR SIGNIFICANT OTHERS: WHO'S DATING OR MARRIED TO WHOM!? (PHOTOS)
But after Paul told Karine that she's strong and can do it, she said, "Okay, I'll try."
Karine and Paul then welcomed their baby boy, and Paul cried, "You did it, sweetie! You did it! You did it!"
It was a very emotional moment, and Karine felt immediate relief and happiness when her son was placed on her chest. Paul gushed about how his baby had beautiful blue eyes and blonde hair and looked just like him.
"I think it's safe to say it's definitely my baby. He looks a lot like me, no need for a DNA test. That's my son. He's very white," Paul told the cameras with a laugh.
"I'm very happy and I'm very proud. I'm going to do the best I can to give him the best life possible."
Karine was so grateful for how Paul had behaved in the delivery room. She said he was calm and acted like a great friend as well as a supportive husband.
Karine said Paul's behavior strengthened her and gave her hope for the future of their relationship. Plus, after seeing her son for the first time, Karine felt nothing but joy, hope and optimism.
Before Karine delivered Pierre Martins Staehle, she wanted a divorce from Paul, but Paul hoped she would change her mind. Karine wanted Paul to help her every day with the baby, so she asked him if things could stay peaceful between them.
Paul's mother Mary then traveled to Brazil to meet her grandchild, and Karine hoped Mary would help her with Paul.
Karine asked Mary for advice on how to handle Paul when he got very angry during arguments. Karine said Paul would shout and be mean to her in stressful situations.
RELATED LINK: 'THE BACHELOR' FRANCHISE COUPLES NOW: WHO IS STILL TOGETHER?? (PHOTOS)
"You can tell by his look that he has hate," Karine said, adding that she feared her son could pick up on Paul's negative energy.
Mary advised her son to quit fighting all the time because babies pick up on their parents' feelings.
"We find out that the less we talk to each other and are frustrated, the less that we fight," Paul told the cameras.
Paul said he looked forward to getting a job, making his own money and paying the bills. His mom said he needed to step up, be a man and make his family work.
"It's your time — it's past time," Paul's mother stated.
Paul set his sights on making amends, fixing his family and doing what's best for Pierre, and Karine could tell Mary visiting was a good thing because she had the ability to make her son calm.
It then became time for Paul's mother Mary to leave, however, and so Karine worried things would go back to normal.
Karine told Paul that she no longer wanted a divorce because she held out hope he could change, and Paul was prepared to try to become a better husband for the sake of his family and keeping it together.
Are Paul and Karine still together and managing to make their marriage work, or have they split up?
While recently Paul posted an October 8 video on Instagram showing himself lying in bed with his son and Karine's arm could be seen next to them, social-media comments Paul made in late September suggest the couple's relationship is currently unstable.
According to the comments, Karine told Paul that she didn't want him in her life anymore and therefore retained a divorce lawyer. 
RELATED LINK: '90 DAY FIANCE' COUPLES NOW: WHO IS STILL TOGETHER? WHO HAS SPLIT? WHERE ARE THEY KNOW? (PHOTOS)
Paul revealed the news in a pair of since-deleted Facebook postings he posted September 27, according to screenshots captured by his followers.
"Karine asked me to remove our photos. And let everyone know that she doesn't want me in her life," he wrote in his first Facebook posting.
Paul then also wrote a subsequent posting in a mix of Portuguese and English.
"Karine advogado de divorcio me ligou. Guess I need a lawyer," he wrote.
Translated to English, the Portuguese text states, "Karine's divorce lawyer called me."
Shortly afterward, Paul deleted both postings and deactivated his Facebook account.
His Instagram account still remains active, however most photos of Karine appear to have been removed except for a few that appear to be sponsored posts.
Paul also revealed in his Instagram Stories on September 30 he and Karine will be "taking a break" from filming Cameo videos for fans "indefinitely."
However, Paul later announced Karine would tape some Halloween-inspired videos in English or Portuguese for their fans.
RELATED LINK: '90 DAY FIANCE: BEFORE THE 90 DAYS' COUPLES NOW: WHO IS STILL TOGETHER? WHO HAS SPLIT? WHERE ARE THEY NOW? (PHOTOS)
"[Pierre] might appear in his costume if you ask her nicely. I can be in or out of the cameos. Just let her know in the request," Paul wrote on Instagram.
"We will be slowing down and possibly temporarily stopping cameos after [the] weekend. Although we have really enjoyed cameo, we have personal matters to take care of. Karine and Pierre have really enjoyed the cameo money. It makes me so happy to see them happy."
Paul did not reveal any additional information about the "personal matters" he and Karine were dealing with at the time.
Speculation that the 90 Day Fiance couple's volatile relationship was once again on the rocks first began earlier in September when Paul had made an Instagram Stories posting claiming Karine was threatening him with divorce.
"Doing a poll strictly out of curiosity. For someone I know very well…… Should a wife divorce her husband over his mother buying gifts daily spoiling their son?" he wrote in the Instagram Story.
"Should a grandmother be banned from seeing her grandchildren over spoiling them. And a husband be divorced for defending his mother's actions?"
Although Paul seemingly tried to play it off like the scenario was happening to some other couple, most of his Instagram followers knew better as the 90 Day Fiance couple's social-media postings have openly shown they are currently living near Paul's mother in the Louisville, Kentucky area with their son Pierre.
As a result, it appeared Karine was angry with Paul's mother for "spoiling" her son as well as Paul for taking his mom's side, and was threatening to divorce Paul as a result.
RELATED LINK: '90 DAY FIANCE: HAPPILY EVER AFTER?' COUPLES NOW: WHO IS STILL TOGETHER? WHO HAS SPLIT? WHERE ARE THEY NOW? (PHOTOS)
The majority of Paul's followers answered "No" to his poll questions.
Prior to the poll, Paul shared a series of images of Pierre in his crib and Karine taking care of him in mid-September.
And in early September, Paul took to Instagram to share a photo of Karine, himself and their baby standing in front of a T-Mobile store.
And after welcoming their first child together on March 22, Karine and her son moved to the United States a few months later. (Back in February, Paul revealed in his Instagram Stories that Karine had received a CR-1 spousal visa).
Eyewitnesses took photos of Paul and Karine at the airport together in Louisville in mid-June.
And then Karine confirmed her location by posting photos on her Instagram Stories of Paul and herself visiting local attractions in Louisville.
Paul, Karine, their baby, and Paul's mother all posed for a picture in front of the entrance of the Louisville Zoo.
Karine shared a picture of the exterior of Louisville's Hard Rock Cafe, suggesting the couple also visited the Fourth Street Live entertainment and shopping complex downtown. 
Paul later shared a family photo of Karine, the baby and himself at a cookout on July 4.
The couple had then continued posting photos of each other on Instagram Stories in the last few months.
In addition to making Cameo videos together for money, Karine had also shared a few funny images of Paul on the couch with their son.
Paul and Karine also hadn't exactly been hiding their relationship status considering Paul's Instagram bio stated, "Married to @staehlekarine," along with an emoji of a couple and their child.
Karine's Instagram profile also had Paul in her main photo and read, "Casada com [Paul]" in her bio at the top, which means "married to" Paul.
RELATED LINK: '90 DAY FIANCE' COUPLES NOW: WHO IS STILL TOGETHER? WHO HAS SPLIT? WHERE ARE THEY KNOW? (PHOTOS)
Want more 90 Day Fiance spoilers? Click here to visit our 90 Day Fiance Spoilers webpage!


[ad_2]