[ad_1]

90 Day Fiance: Before the 90 Days
featured Darcey Silva and Tom Brooks saying goodbye at the airport when Darcey had to leave London and return home to the United States, so what happened next? Are Darcey and Tom still together or did the
90 Day Fiance
couple break up after the show?
[90 Day Fiance: Before the 90 Days Spoiler Warning: Please stop reading now if you don't want to find out the current status of Darcey and Tom's relationship and whether the 90 Day Fiance couple is still together or maybe even engaged now.]
RELATED LINK: '90 DAY FIANCE' COUPLES NOW: WHO IS STILL TOGETHER? WHO HAS SPLIT? WHERE ARE THEY KNOW? (PHOTOS)
Darcey, a 44-year-old from Middletown, CT, previously starred on Season 2 of Before the 90 Days with her now ex-boyfriend, Jesse Meester from Amsterdam, with whom she had a toxic relationship.
The mother of two insisted she'd never let a man control her or be mean to her again, and she was done with constant bickering and fighting in a relationship.
Darcey therefore moved on with Tom, a 39-year-old distributor for a sports fitness brand from Nottingham, England, who allegedly treated her much better.
Darcey and the "jet-setter" met on Facebook a whopping four years ago.
They had actually planned to meet up in person at the time, but Darcey chose to pursue a romance with Jesse instead. Although Darcey said she remained loyal to Jesse, Tom was apparently always in the back of her mind.
Once Darcey and Tom got to know each other better over the phone and video chat, she found him to be kind and supportive.
Darcey gushed about being in love again, and she felt certain this time would be different considering her dynamic with Tom was healthy and positive.
"With Jesse, it felt like a false love, but I feel Tom is the right one for me," Darcey told the cameras.
Darcey's twin sister Stacey, however, was concerned Darcey was going to take things too fast and get hurt. She accused Darcey of having unrealistic expectations and Tom of not being ready to settle down, but Darcey just wanted everyone to be happy for her.
RELATED LINK: 'MARRIED AT FIRST SIGHT' COUPLES NOW: WHO IS STILL TOGETHER? WHO BROKE UP? WHERE ARE THEY NOW? (PHOTOS)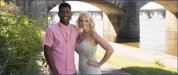 RELATED LINK: '90 DAY FIANCE' COUPLES NOW
Darcey said she even had a beautiful ring to prove Tom cared about her, and she wore it on her left hand. (Jesse allegedly blasted her on social media for it being a fake engagement ring).
"I hope Tom is who he says he is in person," Darcey said. I'll guard my heart a little bit, but at the same time, it's open for the real deal."
But Tom had been living a bachelor lifestyle prior to getting romantically involved with Darcey.
Tom claimed he was looking to progress a relationship past the bedroom, but this was apparently unknown territory for him.
Tom said Darcey was romantic and could put a smile on his face in the darkest of days. He thought Darcey was an extremely attractive woman and said he couldn't take her eyes off her.
Tom also helped Darcey get through her breakup with Jesse, which showed him that he really must care for her.
As a result, Tom didn't want to treat Darcey like a one-night stand, and so once she arrived in London, he booked a separate room for her at a hotel.
"I'm not really at the stage of thinking where I'm going to settle down, get married, have kids, and move to her country or have her move here. I'm at the point where I'm meeting someone I've been really good friends with and I'm going to see where it goes," Tom told his sister Emma.
Tom said Darcey lived in "a bit of a fantasy" when it comes to romance and he didn't want to rush things.
"I want to take my time, and I hope she won't be upset by that," Tom said in a confessional.
Darcey and Tom finally met at a restaurant, and he thought she looked even more beautiful than her photos.
Darcey admitted Tom "looked a little different" than his photos, but she was more interested in what he had to offer on the inside rather than the outside.
RELATED LINK: '90 DAY FIANCE: BEFORE THE 90 DAYS' COUPLES NOW: WHO IS STILL TOGETHER? WHO HAS SPLIT? WHERE ARE THEY NOW? (PHOTOS) 
Tom wasn't sure Darcey was thrilled upon seeing him for the first time in person, but she assured him that he was even better than what she had expected.
Darcey said Tom wasn't exactly fit "like a gym boy," but that's not really what she wanted. She said he had the "it factor" with his handsome looks and good style.
Tom acted like a gentleman during his first few days with Darcey, but she came on very strong and got too emotional at times for Tom's liking.
Darcey also wanted to be intimate sooner than Tom was ready, so she began to wonder whether they were really on the same page.
Tom found Darcey to be "a little difficult to deal with," so he wasn't sure how exactly he wanted to proceed with their relationship.
"I've been seeing other women. But I told them I wouldn't be seeing them anymore," Tom said in a confessional.
"I want to see where this goes with Darcey. I want to see if this love affair and romance, which it could be, could become something more of a long-term thing."
Darcey admitted it was "hurtful to hear" Tom had been seeing other women up to a week before her arrival. Tom suggested they were on a trial basis, and then Darcey acknowledged she had assumed "too much, too soon."
Darcey later asked Tom to change their original plans of sailing on a 60-foot yacht in Gran Canaria to traveling to Albania instead, where Stacey was staying with her boyfriend.
Darcey wanted to hear from Stacey that Tom was the right guy for her, and so Tom reluctantly but ultimately obliged.
RELATED LINK: 'BIG BROTHER' SHOWMANCES NOW: WHO'S STILL TOGETHER? WHICH COUPLES HAVE SPLIT UP?? (PHOTOS)  
Darcey admitted she was "falling in love" with Tom but something was "a little off."
"There's a part of me that worries the sexual chemistry might not be there, but I hope there will be fireworks. I mean, I just want to feel his passion. I'm so ready for that," Darcey said in a confessional.
Darcey and Tom then finally made love, and according to Darcey, the passion was there and Tom was "everlasting."
Darcey said the night pushed them 10 steps in the right direction and it was "such a relief." She finally felt like they were on "the same page," and Tom also felt great about their first sexual encounter.
While shopping around town, the pair walked by a jewelry store and Darcey pointed out she likes white diamonds. Tom noted Darcey put a lot of pressure on getting engaged and wanting to be married, but he wanted to take his time with the relationship to make sure she's The One. 
Tom simply didn't want to rush into anything, and he warned Darcey he wouldn't be getting down on one knee "now." Darcey seemed to understand, but she told the cameras maybe she could change his mind because Tom seemed to be falling for her as well.
Tom then brought Darcey out to a club, where she met a couple of girls who happened to be Tom's good friends. However, had dated one of the women named Roucelle for three or four months.
Tom wouldn't even tell his friends that he and Darcey were exclusive or boyfriend/girlfriend.
Roucelle also admitted during the gathering Tom could be "quite disconnected with his emotions sometimes." She warned Darcey that Tom tended to disappear and close himself off.
Tom admitted he had walls up and was guarded because he had been engaged twice before, and both times, the women left him.
"Maybe I can't commit because of the way things were in the past," Tom said in a confessional.
RELATED LINK: '90 DAY FIANCE: HAPPILY EVER AFTER?' COUPLES NOW: WHO IS STILL TOGETHER? WHO HAS SPLIT? WHERE ARE THEY NOW? (PHOTOS)  
Roucelle thought Darcey seemed "really nice," but she told Tom that she couldn't picture them together and he wasn't "emotionally capable" of feeling that way or embracing his emotions.
Darcey and Tom then flew to Albania together so Tom could meet Stacey and Stacey's fiance. Tom called the trip "a finger in the eye," but he knew relationships are all about compromise.
Darcey revealed Stacey's fiance is a 27-year-old fitness model. Darcey claimed they didn't have the same taste in men, except for the fact they're drawn to foreigners.
Darcey said she and Stacey were each other's best friend but they could also be enemies at times given their relationship was so unique.
"I don't think we're jealous of each other, I think it's just about one having to do it up a little bit more than the other," Darcey explained.
The girls bickered a bit in front of their men, with Stacey accused Darcey of trying to "one up" her all the time. Neither sister was certain the other wanted to see her happy.
Darcey was upset because Tom was seeing things she didn't want him to see. She also got emotional about her relationship with Stacey and how Tom might have perceived it.
Tom let Darcey know that she had acted immature, but Darcey blamed her sister for doing the same thing. The dynamic between sisters was unfortunate, and Darcey felt bad Tom was not in a good headspace because of it.
Darcey felt guilty because she didn't think Tom was having a good time. She worried Tom's feelings for her would be stronger had they went through with his planned trip to Gran Canaria instead.
RELATED LINK: 'LOVE AFTER LOCKUP' COUPLES NOW: WHO IS STILL TOGETHER? WHO HAS SPLIT? WHERE ARE THEY NOW? (PHOTOS)
Tom even pointed out he had considered proposing marriage to Darcey in Gran Canaria, where his parents had gotten engaged, which made Darcey cry and feel deflated.
"My head was like, 'Let's go and do this and if things are great and it's wonderful, maybe, you know, I would've asked you to marry me," Tom told Darcey. "But we're here and it isn't the way I wanted it to be."
Tom said he and Darcey might've gotten swept up in the moment because the location and setting is beautiful.
"We would've been much more romantic towards each other," Tom said in a confessional.
"Having been to Albania and it not been like that, I actually saw what Darcey is all about, and now I'm not 100 percent sure where we're at in the relationship."
Tom said there was half of Darcey that he loved and wanted to spend the rest of his life with but then there was half of her that he just wanted to be friends with.
Darcey said she had missed out on what could've been the best day of her life. She resented her sister for asking her to come to Albania in the first place and blamed Stacey for ruining everything.
"Darcey wants love so badly that when things don't go her way, when things go wrong, she places blame on everybody else. I can see Tom distancing himself from her, and I'm afraid she's going to lose him for good," Stacey told the cameras.
Darcey called the trip to Albania "a disaster," and she only had one week left with Tom. She worried about leaving London, England without a proposal — and maybe even without a relationship.
RELATED LINK: 'DANCING WITH THE STARS' PROS AND THEIR SIGNIFICANT OTHERS: WHO'S DATING OR MARRIED TO WHOM!? (PHOTOS)
When Darcey returned to the table, she started to cry, saying Tom was not "in love" with her yet. She didn't feel like she was good enough for him.
Tom told Darcey that was a sign of how she felt about herself, but Darcey wasn't sure where she fit into Tom's life.
"You want me to get on my knees and say, 'I love you?' That's not going to happen. You are seeking approval; I don't want to appease that. I don't. I really don't," Tom told her.
"Where does that leave us?" she asked.
"I don't know," Tom replied.
After spending two weeks with Tom and one of those weeks in Albania, Darcey traveled to Tom's hometown of Nottingham and planned to stay for one week.
The traveling experience was apparently painful because Tom was allegedly giving Darcey the silent treatment. And once they arrived at their hotel, they still weren't speaking.
"This has nothing to do with anyone but you," Tom told Darcey, before telling the cameras, "When Darcey acts in that manner, I just don't find it really attractive."
Tom explained to Darcey that he would never accept her behavior in front of his family; however, he still cared for her and so he was willing to continue their romance.
"I don't know where I stand right now in my relationship with Tom," Darcey told the cameras.
Darcey ended up apologizing for the way she had acted in Albania. Darcey was embarrassed and felt guilty for having made Tom feel uncomfortable. She said she didn't want to lose Tom, but he promised she wouldn't lose him.
RELATED LINK: 'SURVIVOR' COUPLES NOW: WHO'S STILL TOGETHER?! WHICH SHOWMANCES SPLIT UP? (PHOTOS) 
Tom could see the good in Darcey, but he wasn't sure how exactly to feel or what to do. The pair had some issues to work out.
Things started to come together for the couple once Darcey met Tom's beloved dog. Everything seemed to go back to normal.
Darcey felt they could get through anything together, and she was so happy to finally see him open up.
Darcey and Tom then met his sister for dinner at a restaurant. Tom's sister said Darcey is exactly the woman whom Tom typically dates — fake eyelashes, fake hair color, fake breasts etc. Tom's sister therefore wanted to find out if Darcey was real and genuine.
Tom told his sister that he was "falling for" Darcey, who said Tom was worth having a long-distance relationship with because she really cared for him.
"I'm not going to hurt you, trust me," Darcey told Tom at dinner.
Tom's sister wondered whether one woman would be enough for him, but he said he wanted to settle down. Tom's sister apparently had no faith Tom could handle a long-term relationship, nevermind a long-distance one.
"I'd be very surprised if this is the last woman Tom is with," his sister told the cameras.
Tom revealed after dinner to Darcey that he often uses his family as an excuse or a crutch for his relationships with women not working out.
Darcey didn't like to hear that and said, "I love you," to Tom, but he just stood there in silence and didn't say those three little words back.
Three weeks after Darcey's arrival in England, she was still waiting to hear those important three words from Tom.
RELATED LINK: 'THE BACHELOR' FRANCHISE COUPLES NOW: WHO IS STILL TOGETHER? (PHOTOS)
Darcey thought she could see love in Tom's eyes, but during a night of salsa dancing, she grew jealous when he danced with other partners and basically pushed her to the side.
Darcey wanted more attention from Tom, attention she thought she deserved. However, Emma warned Darcey that Tom was never going to be "a kept man" and she needed to allow him to party and have fun or else she'd be wasting her time with him.
"I love him," Darcey cried. "It hurts to see that… I have a fantasy of your brother. I need to put reality into it."
Emma told Darcey that Tom is a successful, self-assured man who wouldn't want a possessive, jealous or needy partner. Emma advised Darcey to stop acting insecure, but she had trouble being confident in herself when Tom wasn't ready to commit to her or even say, "I love you."
Emma told Darcey to be honest with Tom and get some answers, so Darcey later pulled Tom aside and flat out asked, "It is a little difficult for me to ask, but I kind of need to know something — are we exclusive?"
Tom replied, "If you need clarification, then, yes, we are exclusive. It's just me and you."
Tom kissed Darcey and she felt great that they were finally in a committed relationship. She loved his answer and felt happy, but they only had two days left together.
"I think we're inching towards a possible proposal," Darcey noted.
In the latest episode of 90 Day Fiance: Before the 90 Days, Tom took Darcey to the location where the legendary Robin Hood had married Maid Marian.
Darcey told Tom that he was her Robin Hood, and he was feeling "extremely good" about their relationship although her trip to England hadn't been perfect.
RELATED LINK: PETER WEBER'S 'THE BACHELOR' SEASON 24 CAST OF BACHELORETTES ANNOUNCED EARLY BY ABC! (PHOTOS)
"I'm glad we're both on the same path, and I do see a future for us together," Tom told the cameras.
Later that evening, Tom planned a special dinner with champagne for Darcey. He said the time they had spent together was "absolutely fabulous," and Tom toasted to spending time with the most beautiful woman he had ever met.
Darcey said she was in "awe" of Tom and found herself speechless over his sweet gesture, and Tom told Darcey that he was actually in "awe" of her and she did little things "perfectly well" that really made his day. Tom was also taken with her red lipstick.
Before diving into their dinner, Tom proposed a toast "to loving," which seemed to surprise Darcey.
Tom said, "Here's to loving and to knowing what love is — and knowing that when you have it, you should hold on to it."
"I do love you," Tom told Darcey. "I've always loved you. I'm actually in love with you, very much so."
"I love you," Darcey replied.
Tom then presented Darcey with a small box, and she clearly thought an engagement ring was going to be inside. However, Tom offered her the key to his house instead.
"You can come and go as you please," Tom noted.
Darcey seemed disappointed and laughed that maybe she could turn his key into a necklace. Tom said although Darcey wanted and probably expected an engagement, they weren't in the right time or place at the moment.
Tom said the key was a promise he'd always be there for Darcey, and he definitely had hope for their future together.
RELATED LINK: 'THE BACHELOR' COUPLES NOW: WHO DID 'THE BACHELOR' STARS AND THEIR BACHELORETTE PICKS ACTUALLY END UP MARRYING? (PHOTOS)  
"The craziness aside, she is the most wonderful, genuine person. She's got a heart of gold. She makes me want to be a better person, and I'm happy that I do finally know that I love her," Tom told the cameras.
Darcey was optimistic about her future with Tom, but she was well aware of how hard long-distance relationships can be. However, Darcey insisted she and Tom were meant to be together.
It then became time for Darcey to leave Tom and fly back to America. She was proud of Tom and herself for sticking it out during tough times, and she hoped for the best.
"You might be a little crazy, but you are my type of crazy," Tom told Darcey. "It's not going to be easy."
Darcey told Tom that she was only a phone call away, but Tom warned her that he was going to be extremely busy over the next 10 days.
Darcey told Tom that she didn't know how to say goodbye, but he replied, "It's not goodbye; it's see you soon… I do see a future with us together."
Tom acknowledged he and Darcey still had "bridges to cross" but he wanted to cross them together.
The couple then hugged and kissed at the airport. Darcey was a little scared of the unknown, but she was invested in her relationship with Tom 100 percent and intended to give it her all.
When Tom left Darcey, he actually felt the need to run back into the airport to hug her and kiss her again. He picked her up, swung her around and expressed his love for her.
"He came back. That was beautiful. I just hope we can stand until the end of time with our love," Darcey said in a confessional. "Only time will tell."
Are Tom and Darcey still together? What happened with the 90 Day Fiance couple?
According to a source close to the couple, Darcey and Tom's relationship is currently sailing rocky waters, Hollywood Life reported.
"Darcey and Tom are still together after filming 90 Day Fiance, however they don't know where the relationship is going to go. It's in a very rocky place," the source said.
"They most likely will break up which is why producers have rushed production of next season featuring their relationship. They have already started filming."
RELATED LINK: '90 DAY FIANCE' COUPLES NOW: WHO IS STILL TOGETHER? WHO HAS SPLIT? WHERE ARE THEY KNOW? (PHOTOS)
So what's the problem? Darcey reportedly believes Tom has been unfaithful to her. After all, the pair agreed to be exclusive.
"Darcey suspects that Tom has been cheating on her this entire season and it's still an issue in their relationship. She think's he's has had multiple girlfriends on the side the entire time," the source continued.
"Countless girls message her on instagram telling her that Tom is cheating with them. Tom brushes off everything and Darcey wants to believe him but she's having a hard time making things work. She wants him to work on himself and figure things out and to communicate better."
Hollywood Life also reported there was a different reason why Darcey — who initially said she wanted Tom to meet Stacey so she could receive Stacey's approval — insisted she and Tom go to Albania instead of enjoying a romantic trip to the Cannery Islands.
"The show never gave a reason why there was so much tension when Darcey made Tom go to Albania instead of Tom's idea to surprise her at the Cannery Islands. The real reason for the destination change was because Darcey had just found out about the other women and was upset," the source explained.
"This also explains why there was more tension than normal with everyone. Normally, Darcey and her sister get along but that episode they were at it with each other. Production made it look like Stacey was mad at Darcey but didn't give much insight why."
"It's really because she wants Darcey to be treated better," the source noted.
Darcey's loved ones also reportedly think Tom lies about his career success and travels, making himself out to seem like a big deal.
RELATED LINK: '90 DAY FIANCE: HAPPILY EVER AFTER?' COUPLES NOW: WHO IS STILL TOGETHER? WHO HAS SPLIT? WHERE ARE THEY NOW? (PHOTOS)  
"Everyone around Darcey thinks Tom is a fraud. They think he wants to appear as this rich, jet setting man but hes really not like that at all," the source said.
In fact, Tom has been accused of stealing and posting other people's Instagram photos on his own account to make it seem like he's some worldly traveler.
"You can google him and nothing will come up," the source told Hollywood Life, "even his Instagram followers are fake."
The source added that Darcey's social circle believes Tom is out "for fame."
"Darcey on the other hand really loves him and wants to make it work. She wears her heart on her sleeve and what you see is what you get, she really wants to get past this but at this point they don't know where their relationship will go," the source concluded.
According to the Frauded By TLC Instagram account, Tom was recently spotted out with a blonde woman on a couple different occasions, and the pair even allegedly attended a Versace fashion show in Milan together in mid-September.
Tom "was allegedly recently seen spotted at a cafe in Milan with this definitely-not-Darcey beauty and there was most definitely ass-grabbing involved," the Frauded By TLC Instagram account captioned an apparent photo showing Tom and the busty blonde woman posing for a photo in front of a Versace photo backdrop.
"Allegedly, there is another girl whom Tom was cheating on with this girl."
Tom posted an Instagram photo showing an alleged personalized invite to a September 20 Versace show on the day the event was occurring, however he did not post any actual photos from the event.
RELATED LINK: '90 DAY FIANCE: BEFORE THE 90 DAYS' COUPLES NOW: WHO IS STILL TOGETHER? WHO HAS SPLIT? WHERE ARE THEY NOW? (PHOTOS)
Meanwhile, Darcey appears to have also been in Europe at the same time Tom was allegedly in Milan — however instead of being in Milan with Tom, she was in Malta with her sister Stacey!
Beginning September 20 — the same alleged date of the Versace fashion show, coincidence? — Darcey began plastering her own Instagram account with postings showing her partying it up in Malta with her twin sister Stacey to celebrate their birthdays.
"Malta your Silva Twins are on our way! Thank you to everyone that is making this luxurious twin trip one in a million! We love you all and love all our fans from Malta! Come join us for our Silva Stars," she captioned a September 17 photo promoting the pair's then upcoming trip.
"Darcey & Stacey meet and greet, press event and another twin treat for our birthday on September 23rd! Let's have the trip of a lifetime! Living the fab life! It will be twintastic."
Then, Darcey posted over a dozen sexy photos and videos over the next week or so showing herself having a great time partying and enjoying the sun in Malta.
While it takes less than two hours to fly from Milan to Malta, there is no social-media activity indicating Tom visited Darcey in Malta during her stay in the European country.
In an October 15 interview with Entertainment Tonight, Darcey let it be known she and Tom were having issues, if they hadn't split already.
"Are we still together? You know what, it's to be determined. You guys are going to have to wait and see," Darcey told ET on October 15.
RELATED LINK: '90 DAY FIANCE' SEASON 7 COUPLES: MEET THE NEW SEASON'S COUPLES! (PHOTOS)
"But on that journey of love, I take risks and I am so proud of it. I will always follow my heart and, you know what, I'm grateful. I'm grateful for the energy that I bring to relationships and opening my heart. And it's a positive thing on my end, so, we'll see what happens."
She also suggested during the interview Tom might have some negative words to say about her.
"Tom's gonna like, say maybe a little bit of what he wants to say, but you know what? In the end, I have a real heart," Darcey insisted.
"I want love just like everybody else. And you know what? When you know somebody for that amount of time, and you go on that journey for love, you know, I'm deserving of it. And I'm not here to be made for a fool, so we'll see what happens."
When ET asked Darcey whether Tom had made her for a fool, she replied, "I wouldn't say that he has… Maybe at times, yeah."
While Tom has yet to express feelings of love for Darcey on the show, she teased their relationship definitely progressed, although their relationship could be over at this point in time.
"He has said he loves me," Darcey shared. "But you will have to watch the next couple of shows to see what happens."
In recent weeks, Tom has been dieting, working out and sharing many pictures of himself on Instagram. Not only did he cut his hair, but he looks totally different.
While Darcey said she's "very proud" of Tom for losing some weight and getting into shape, she took an opportunity to slam him a bit.
RELATED LINK: '90 DAY FIANCE: BEFORE THE 90 DAYS' COUPLES NOW: WHO IS STILL TOGETHER? WHO HAS SPLIT? WHERE ARE THEY NOW? (PHOTOS)
"We all go through our own transformations, but when your ego gets involved… it's questionable," Darcey said.
"I'm happy she's done that for his health, but other than that, we'll see. Keep watching."
In addition, Darcey told ET that she's never going to stop her search for The One if viewers come to find out her romance with Tom didn't work out.
"I've been through many relationships… I'm not giving up, no matter what. I'm going to keep fighting. Love is on my heart always. But you know what, I'll lean back and we'll see what happens," she said.
While Darcey and Tom both still actively post on Instagram, their Instagram profiles were each recently changed to private.
However, prior to making her profile private, Darcy appeared to delete her photos of Tom.
Darcey had posted a few photos of Tom over the last two months, but she removed all of them.
On September 4, Darcey had posted a photo of Tom and captioned it, "Living legend! With my heart wide open and all love. My rock! Perfect gentleman with a heart of gold!"
And in mid-August, Darcey shared a photo on Instagram of Tom taking a selfie and poked fun at his 45-degree angle handsome look.
RELATED LINK: '90 DAY FIANCE: HAPPILY EVER AFTER?' COUPLES NOW: WHO IS STILL TOGETHER? WHO HAS SPLIT? WHERE ARE THEY NOW? (PHOTOS)  
"Keep your eyes on the prize," she wrote.
Darcey also deleted a photo she had of Tom's dating-app profile that she had captioned with a heart.
And more recently, Darcey posts photos of just herself, and Tom is nowhere to be found.
"Darcey will come back and do it better! Feeling free and will never regret taking a risk!" she captioned one photo she posted in early October.
She also shared a modeling photo and said she was strong and loving herself.
And Darcey posted a video of herself posing in front of a mirror. She wrote alongside it, "I will close my heart! I will not be played for a fool! I deserve the best."
Back on September 29, Darcey told her fans to be as picky with their men as they are with their bikinis.
As for Tom, there is little indication on his account that he's still in a relationship with Darcey.  
Prior to the pair's recent social-media activity, Darcey had said in early August she was still in a relationship with Tom and they were happy during an interview with Newsweek.
"We're very good. We're very happy. Things have been amazing and some people might see it that way and some people might see it a different way," Darcey said.
"You'll have to go through the journey along with us."
Darcey added in her interview that Tom's "an amazing guy" and "a great guy."
"We have a really deep connection and have a lot in common… I love his voice. It's very sexy, very James Bond," she said.
Darcey also explained it's a positive Tom is closer to her own age than Jesse was when they dated.
"He's older. He's lived life. He's a jetsetter. He owns his own company. He's very experienced in life and he elevates me. I never feel put down," Darcey shared with Newsweek at the time.
"It was something I had to explore because maybe he could be the one so I decided to do that journey again. I don't regret it."
Prior to her trip to Malta, there had also been no sign Darcey had left the United States since January 2019, when she posted a close-up photo of Tom carrying her and her designer boots across a cobblestone street while she was visiting the U.K.
"Getting carried away in London," Darcey captioned the image, which did not reveal Tom's face at the time.
RELATED LINK: '90 DAY FIANCE' COUPLES NOW: WHO IS STILL TOGETHER? WHO HAS SPLIT? WHERE ARE THEY KNOW? (PHOTOS)
Want more 90 Day Fiance spoilers? Click here to visit our 90 Day Fiance Spoilers webpage!


[ad_2]